HB399 5 Commissioner Vote Kicked to Item 23 Saturday Senate Calendar
Image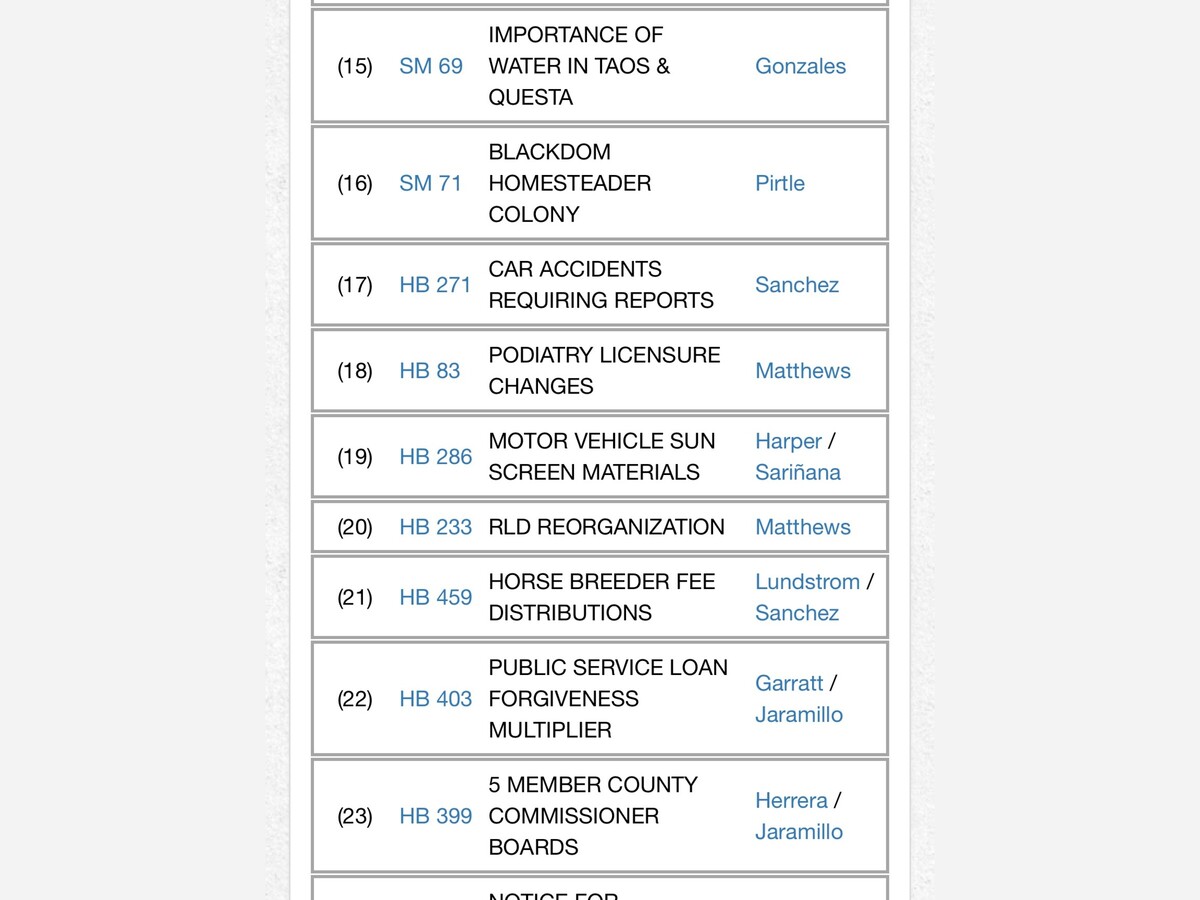 Ítem 23 is 5 commissioners call your Senator early Saturday to ensure SB399 is prioritized for a floor vote before noon session ends and it dies…
District: 34
County: Doña Ana, Eddy & Otero
Service: Senator since 2012
Occupation: Business Owner
Office: 414A
Phone: 505-986-4391
Email: ron.griggs@nmlegis.gov
District: 33
County: Chaves, Lincoln & Otero
Service: Senator since 2011
Occupation: Business Owner
Office: 415C
Phone: 505-986-4366
Email: bill.burt@nmlegis.gov
The House approved HB 399, which seeks to require counties with 35,000 or more people to expand their county commissions to five members, on Thursday by a vote of 40-28.
Only three counties would be affected by the bill should it pass: Otero, McKinley and Rio Arriba counties.
"Thank you for the very strong-minded debate and the urgency that we all are coming to recognize," bill co-sponsor Rep. Willie Madrid, D-Chaparral, said. "I have to say in closing, you know, when we talk about the statutes and listen to the discussion today, it was a start of the will of the people. They have to be a part of this."
Commission districts must be equally distributed based on population alone.
The county commissioner boards draw the new district maps, bill co-sponsor Rep. Susan Herrera, D-Embudo, said.
According to current state statute, New Mexico counties can expand to five county commission board members by a unanimous vote for the expansion. Then a redistricting effort is to occur based on the most recent U.S. Census data.
Herrera said the bill's purpose was to expand representation to traditionally excluded populations such as Hispanics.
This is the bill that would force the Otero County Commission to expand per the will of the people of Otero County that voted overwhelmingly for it by 72%.