Alamogordo Proud Artisan Rusty Easton
Image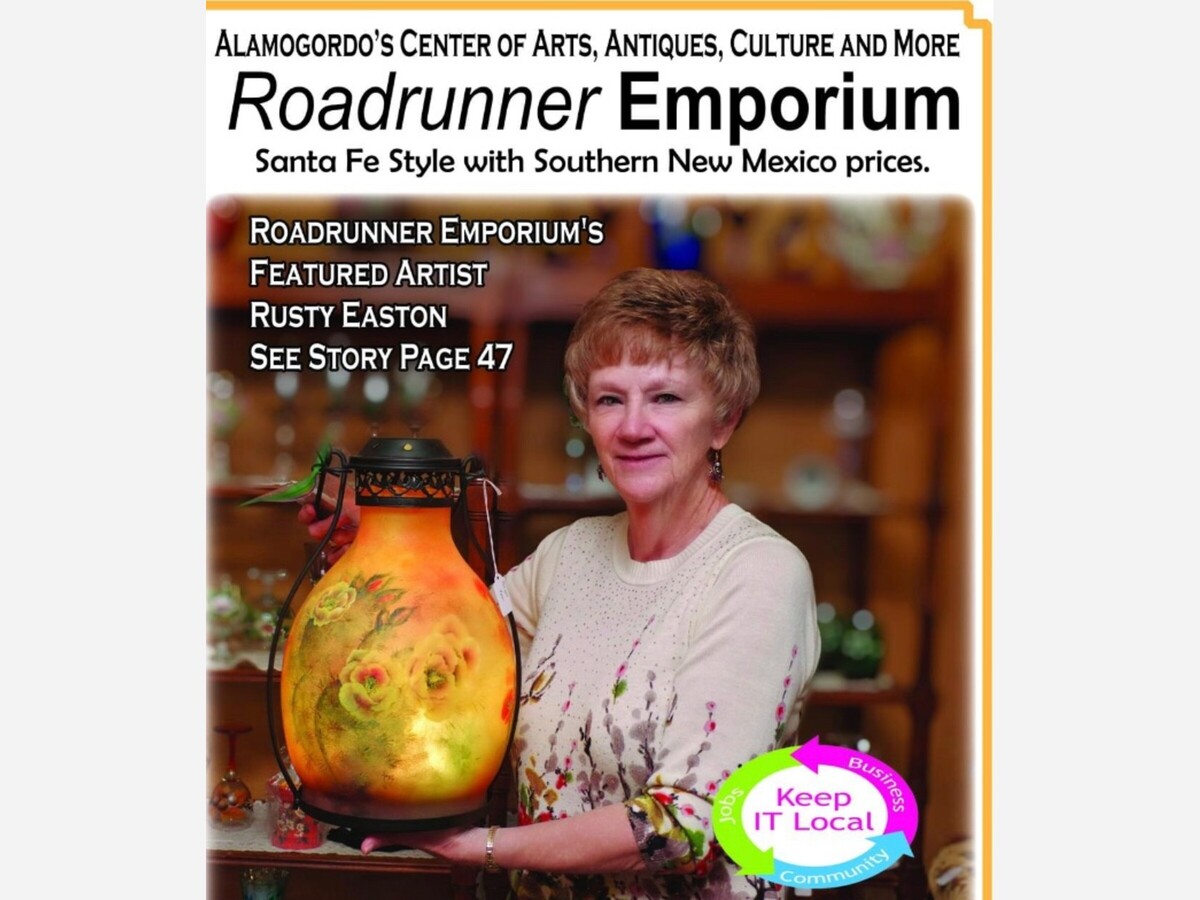 AlamogordoTownNews.com, KALHRadio.org 95.1 FM, along with several citizen leaders are highlighting those people and organizations that represent the best of Alamogordo via our "Alamogordo Proud" Campaign. Roadrunner Emporium Fine Arts, Antiques and More and the Alamodoso Magazine nominated local Artisan Rusty Easton for recognition in the "Alamogordo Proud" Campaign.
Ms. Easton is one who truly represents "Alamogordo Proud." "Rusty" is well known and highly regarded, not only for her wonderful artisan designs, but also for her great smile and warm demeanor.
Rusty Easton began painting in 1985. The craft shop in her small town in Utah occasionally held a Saturday class in oils. She said, "it was great, but after a few years I started inundating my family with paintings, so I realized I needed to move on."
In the mid-1990's she went into another craft shop in Cheyene, Wyoming. Her sister-in-law had some tole painting supplies on her Christmas list, so Rusty chose some to give her. While Rusty was paying for her purchases, she glanced over and was pleasantly surprised to see a cute Christmas bear made of wood and dressed in a painted on red Santa Jacket, smiling at her with a red lipstick mark on his cheek and holding a sign that said, "Meet me under the mistletoe." Rusty immediately fell in love with the bear and asked the clerk if it was for sale. The answer was "no" but she could take a tole painting class and paint one herself. "So began my love affair with painting on wood,"Rusty explained.
"I learned to cut out my own wood pieces, sand and paint them. In all honesty, acrylic painting on wood has become my favorite medium. I often use unusual wood slices and create landscapes, wildlife and lately, I have been experimenting with Native American maidens on larger slices," Rusty continued.
Rusty is best known locally for her glass painting classes and artisan creations. About 20 years ago she claims to have happened upon glass paint. She said, "after a lot of practice, glass and ceramic painting has become my most popular art form. About a year ago I met the owners of the Roadrunner Emporium, Chris Edwards and Rene Sepulveda, and they allowed me to place a few items on a consignment basis. In January of this year, I was offered my own space."
Rene Sepulveda explained, "Chris and I really loved the creations that Rusty brought to the table. Each hand painted item was unique and one of a kind. She takes so much pride in her artistry; her classes were also always well received, and she is such a breath of sunshine, so we had to have her as a permanent member of our portfolio."
Rusty truly loves to paint and it's obvious by her talent. She says, "painting has turned out to be an escape from life's pressures. When I paint landscapes, my mind drifts to the scene. If its florals, I can almost smell and touch the flowers."
Rusty continued; "I taught glass painting for about 3 years at the Heart of the Desert. I also taught a few classes at Roadrunner, until life got in the way. I hope to resume classes at Roadrunner Emporium again in the near future.
One of my favorite things to do is to share my love of painting with others who want to learn art. It makes my heart sing to see one of my students blossoming into an artist, in their own right. Life if spectacular!"
Life is spectacular when we have people like Rusty Easton sharing her talents with us, she is truly an example of the pride of the "Alamogordo Proud" campaign.