Our Staycation at The Domes a Hidden Treasure in the Lincoln National Forest of Southern New Mexico
Image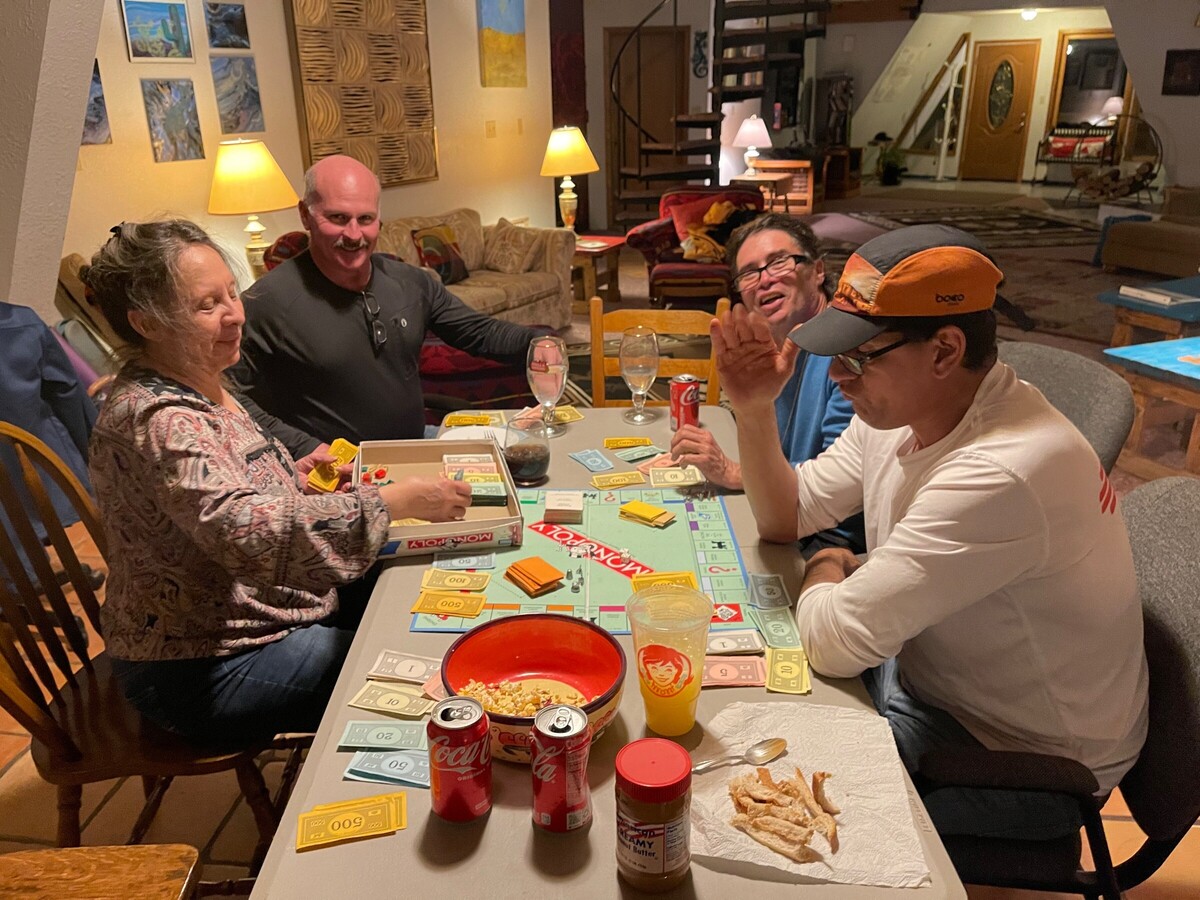 At AlamogordoTownNews.com we like to showcase the arts, the culture, the history and the legends of the area around Otero County. We like to showcase small businesses that are unique and different and not cookie cutter cutouts of something you'd find in any city of America. We recently we fell upon such a business that fits our criteria as original, unique, beautiful and fun.  A business that embraces natures beauty and wonder and at the same time is local and operated by a couple that are themselves engaged in the local arts community, so it was a perfect fit for our reporting.  The Domes Nature Retreat is a unique accommodation operated by friendly and welcoming couple, Doug and Lilliane.  
Sometimes you just want to pull a few real close friends together or family and seek a retreat from the world! Recently we discovered just that such retreat at the Domes Nature Retreat at 1201 Westside Road in High Rolls. The group of 8 of us decided to go and get away for a weekend Staycation and see what is available locally but doesn't feel local.  
We packed our cars, as if we were going on a long wayward journey, and in reality, it felt a million miles away looking down on the state from the mountain near High Rolls. Taking a short hike from our front porch we could see the world. We looked down on the valleys, the white sands in the distance, snow around us, a city that seems miles away and yet it was a pleasurable, inviting and heartwarming retreat.  Imagine pulling up and being welcomed by nature all around you.
Upon check in we were encapsulated by two large domes joined together totaling 5000 square feet of indoor area for our friends and family surrounded by acres and acres of hike able national forest lands.  Close your eyes Imagine and imagine walking in from the snowfall to warm wood burning stoves, 27-foot-high ceilings, lofts and multiple skylights giving an extremely spacious feel, a functional art gallery surrounding you with tantalizing works of art and nothing to see but trees and mountains out every window. The dining area seated 16, so the 8 of us could spread out and enjoy. There were enough cubbies and tables that we were able to spread out after feasting and play board games and card games, listen to music and feel so spread out yet cozy. The large living room offers multiple seating areas where one can do a variety of activities or just rest watch the sunlight or moonlight and ponder life. A large deck provides even more places to chill, cook out or commune with nature. 
For a group the 6 bedrooms and 13 beds give plenty of sleeping options. The kitchen was perfect large easily accommodating each of us in creating our own unique food offering for the meal. All the cooking appliances you could need are waiting in the kitchen as well as well as plates, saucers, bowls, cutlery, pots and pans etc. There is an outdoor BBQ available for added options. Propane and utensils are supplied enough for any size group of people. The huge fully equipped kitchen and open dining area is a wonderful area to drink, cook, chat and engage with one another.
The property was clean, maintained and inviting. The Domes are located 12 miles south of High Rolls on Westside Rd. There are no other homes within 10 miles, so it is very peaceful and private. The road is maintained by the Forest Service but is unpaved and mountainous. You must have AWD or 4-wheel drive if there has been snow. Otherwise, cars are fine. Ask about road conditions in the winter and rainy season. It feels more remote than it actually is which is the beauty of the property. This is a perfect location also for a writer's retreat, or a retreat to commune with nature. A true place of Zen. 
At an elevation of around 7000 feet the air is crisp, clean and ideal for those that love the outdoors. The location would be a perfect location to host a fitness retreat away from all the distractions of the city and so deeply. surrounded by nature.
Our group that stayed on our staycation enjoyed the beauty of the night sky, the warm superior accommodations, the staff ensure any need we may have, and the wonderful hiking the next morning. The selection of games and activities to occupy us was perfect. The artwork and gallery had some very unique finds and offerings from creams and balms to unique and collectible original works of art. Reading materials were abundant and there is internet connectivity and cell phone service on the property. Cell phones get spotty service when hiking. 
Hiking from the Domes and one sees abundant wildlife, wonderful pathways to explore, natural streams of fresh water, trees and a variety of vegetation and microclimates. 
If you are coming to the area looking for a vacation or from the area and in need of a staycation out of the ordinary but extraordinary the Domes on Westside Road in High Rolls New Mexico is just the prescription for remote relaxation. To find out more email the owners at lily@lilianepilot.com or call 575-430-0739
So close and convenient yet one feels a world away all the distances below of attractions calculated from The Domes
Lincoln National Forest 
Just step out the Front Door!
Cloudcroft:
Galleries, restaurants and shopping - 17 miles
Alamogordo:
Space History Museum - 24 miles
Tularosa Basin Museum - 24 miles
Roadrunner Emporium Gallery - 24 miles
The New York Avenue Cultural Arts District - 24 miles
Otero Arts Gallery Alamogordo - 24 Miles
All City Services of Alamogordo - 24 miles
White Sands National Park - 47 miles.
Three Rivers Petroglyphs - 48 miles
Las Cruces Galleries and Dining - 82 miles
Valley of Fire - 80 miles
Roswell Alien Museum - 93 miles
Carlsbad Caverns - 105 miles
More News from Alamogordo