Supreme Court Gerrymandering? History of District 2 Shows Republicans and Democrats have held Seat Regardless...
Image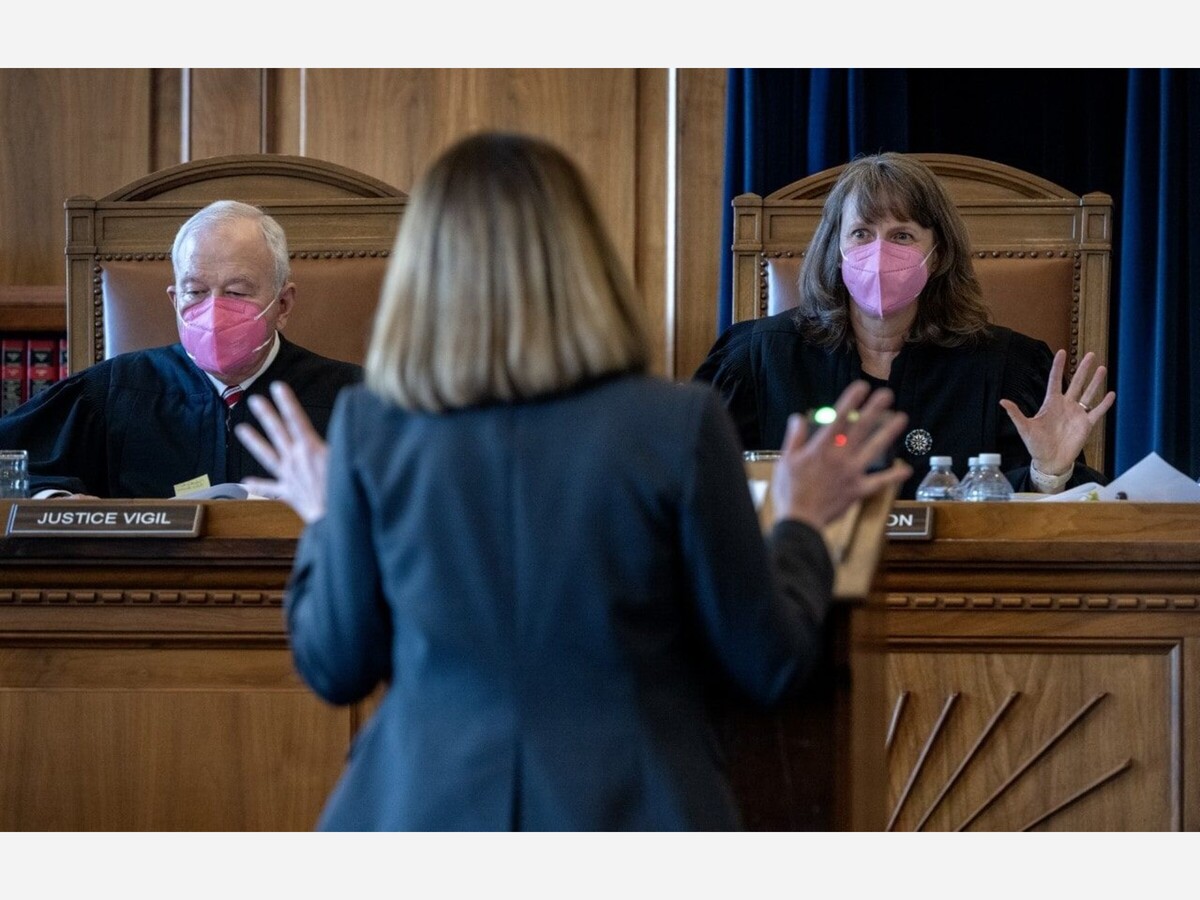 Monday 1/9/2023, the New Mexico Supreme Court was presented with a case filed by the Republican Party of New Mexico. The case was filed primarily out of fear of what would happen in New Mexico Congressional District 2. Republicans feared the redrawn maps tilted to Democratic favor, and as such was why Democrat Gabe Vasquez won against incumbent Yvette Herrell. 
However, history is sometimes forgotten, and the public should remember the seat has flip flopped between Democrats and Republicans even before the most recent redistricting. 
A lesson of history specific to the seat of New Mexico Congressional District 2. It was created January 3, 1969.
Congressman Ed Foreman was the first congressman from the district and a Republican. Harold Runnels, Democrat held the seat from 1971 to 1980. The seat was remapped Joe Skeen, Republican served longest in the seat, and held it continuously from 1981 to 2003. Steve Pearce, Republican held the seat from 2003 to 2009 and he is now New Mexico Republican Party Chairman. Democrat, Harry Teague held the seat from 2009 to 2011. Steve Pearce, Republican again held the seat from 2011 to 2019 and left for a failed attempt at the Governor's office. Xochitl Torres Small, Democrat won the race in 2019 to 2021. Alamogordo Republican, Yvette Herrell, held the seat from 2021 to 2023. Now the seat is held by Democrat, Gabe Vasques who just began his term this month.  
So basically, since the position was created it has been held by Republicans longer in tenure however, it is not exclusively a Republican Seat.  It has been held by Democratic congress members and 4 Republican Congress members. 
Therefore, does redistricting matter or does the candidate matter? Joe Skeen held the seat longer than anyone, went through redistricting and still held the seat for 20 years! As a congressman, Skeen had a largely conservative voting record but also brought numerous projects to his district. In contrast to most congressmen, Skeen faced several competitive races for reelection. After skating to reelection from 1982 to 1990 – including two completely unopposed bids in 1988 and 1990 – he faced aggressive Democratic challenges for most of the 1990s.
He announced in 1997 that he had Parkinson's disease. Skeen announced his retirement from Congress in 2002 and left at the end of his 11th term in 2003. At the time of his death in 2003, he was highly regarded by New Mexicans in both parties for his service to his state.
Changes in counties or maps making up the district are nothing new and change is mandated by the Constitution after a census. 
The district makeup 1969–1983 consisted of Catron, Chaves, Curry, DeBaca, Doña Ana, Eddy, Grant, Hidalgo, Lea, Lincoln, Luna, McKinley, Otero, Roosevelt, San Juan, Sierra, Socorro, and Valencia counties. 
The district makeup from 1993–2003 included Bernalillo, Catron, Chaves, Cibola, DeBaca, Doña Ana, Eddy, Grant, Guadalupe, Hidalgo, Lea, Lincoln, Luna, Otero, Sierra, Socorro, and Valencia.
The district County Makeup from 2003 to 2013 included Bernalillo, Catron, Chaves, Cibola, DeBaca, Doña Ana, Eddy, Grant, Guadalupe, Hidalgo, Lea, Lincoln, Luna, McKinley, Otero, Sierra, Socorro, and Valencia. 
Make of the district from 2003 to 2013 included Bernalillo, Catron, Chaves, Cibola, DeBaca, Doña Ana, Eddy, Grant, Guadalupe, Hidalgo, Lea, Lincoln, Luna, McKinley, Otero, Roosevelt, Sierra, Socorro, and Valencia
Make of the district from 2023–present Bernalillo, Catron, Cibola, Doña Ana, Eddy, Grant, Hidalgo, Lea, Lincoln, Luna, McKinley, Otero, Sierra, Socorro, and Valencia.
 New Mexico Supreme Court justices grappled Monday with questions about their authority to intervene, and the criteria that might be used if they decide to do so, in a case that hinges on the political fairness of the state's redrawn congressional map.
For now, the state's highest court plans to take its time in coming up with answers.
After more than an hour of oral arguments, the Supreme Court did not issue an immediate ruling on the Republican-backed lawsuit that argues the Democratic-approved congressional map — approved during a 2021 special session — represents a political gerrymander.
"This is an issue of significant importance and we want to be deliberative," Supreme Court Chief Justice Shannon Bacon said in announcing the court's decision to not issue a same-day ruling.
It's unclear when a decision might be issued, as the Supreme Court has in the past deliberated for months on some high-profile cases before releasing a decision.
Attorneys for the state GOP and other plaintiffs who filed the court challenge argued Monday the election results offered evidence of top-ranking Democrats' intent to redraw the state's congressional district boundary lines in their party's favor.
However, lawyers representing the Democrats named in the case responded by saying the redrawn congressional map does not violate the federal Voting Rights Act or other established redistricting guidelines, such as the one-person, one-vote principle.
In court filings in the run-up to Monday's hearing, attorneys representing the top Democratic lawmakers and the governor claimed the new map succeeded in creating more competitive districts, as Vasquez defeated Herrell by just 1,350 votes.
In addition, the state's two other Democratic U.S. House members — Melanie Stansbury and Teresa Leger Fernandez — both won election by smaller margins than Democrats had won their respective seats in 2020.
But top GOP officials accused Democrats of engineering Herrell's ouster by moving parts of Albuquerque's South Valley and West Side into her congressional district, while shifting Roswell and parts of Hobbs into other districts.
In their court challenge, the Republican Party and other plaintiffs also claimed the new congressional map violates the equal protection clause of the state Constitution. They asked the Supreme Court to strike down the newly drawn map and direct the District Court judge to oversee the drawing of fairer boundary lines.
Every decade, the forces of partisan self-dealing and occasional good government converge in a frenzy of redistricting across the country and in New Mexico. Think of it as a closely contested game of tug-of-war, in which the outcome depends on every participant. Measured from the standpoint of power, the advantages in each state can cancel one another out.
No matter which way you slice it, Democrats have gained blue seats from the mapmaking process, making the House playing field between the two parties more balanced than it has been in decades. But that doesn't mean the 2022 congressional map is necessarily "fair" to either party.
Looking at the national level it looks more overall balanced thanks to courts striking down Republican gerrymanders in states such as North Carolina, but Democrats achieved this near parity mostly through gerrymanders of their own in states such as New York and Illinois. 
The result is an overall national map that looks fair but individual state maps that are anything but.
Put bluntly, the national House map still isn't fair; its gerrymanders are just more fairly balanced. And the unfairness of the individual maps has other important consequences.
For instance, the new national map is also shaped up to be historically uncompetitive. The number of swing districts has been on the decline for decades thanks to factors like ideological self-sorting and increased polarization. But gerrymandering has played a role too: As mentioned above, six highly competitive districts have been drawn out of existence this redistricting cycle completed in November.
New Mexico District 2 is not necessarily a district that had a loss due to gerrymandering. It is a district that has a history of competitive races and is seeking representation by a congress member that can be conservative but has the values and abilities of Joe Skeen to work across the aisle, put ideology aside and bring home the bacon and do what best serves his or her constituents. Time will tell if Gabe Vasquez is that man or a Republican challenger will step up and fill the shoes in a model of service like history shows existed under the leadership of Congressman Joe Sheen.