Happy Birthday to Tuskegee Airmen Lt Flowers Age 107 a member Americas club of centenarians.
Image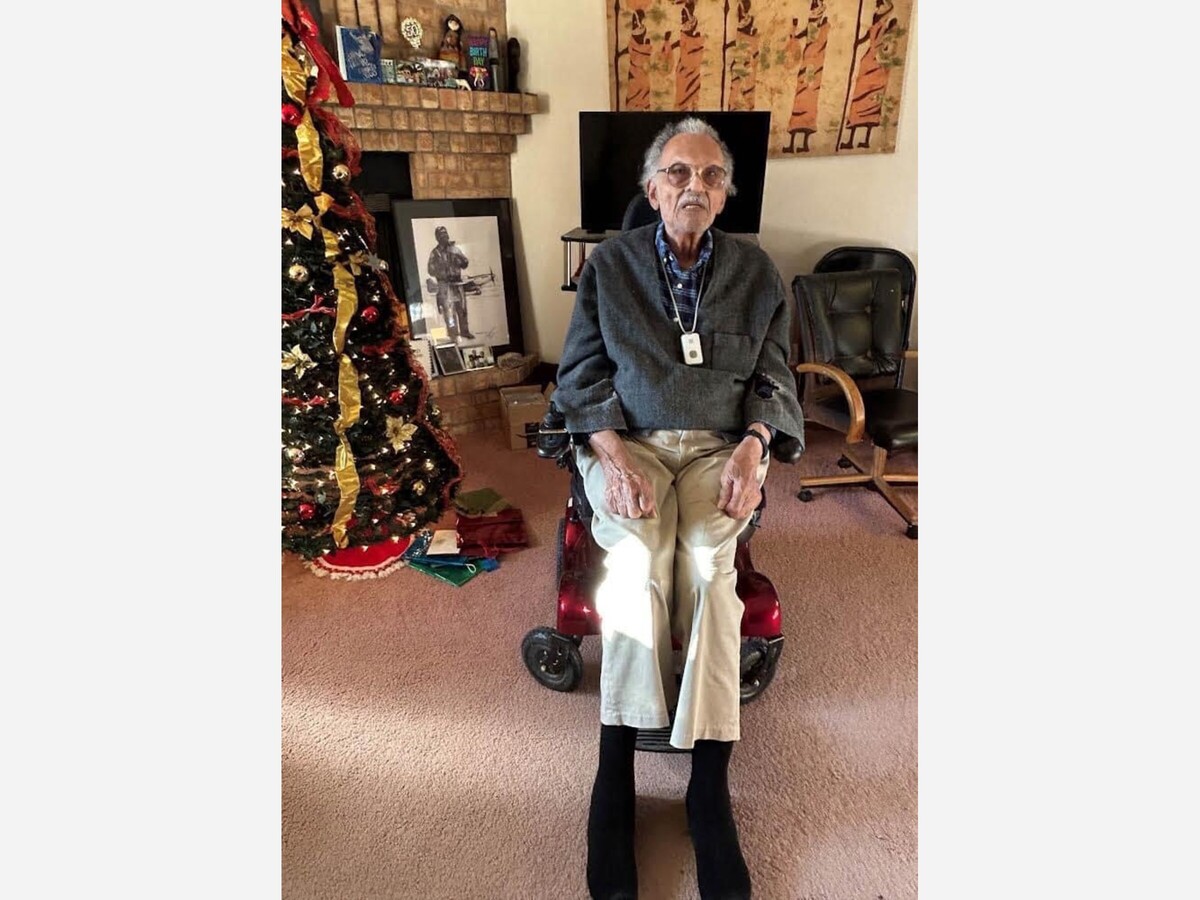 Happy Birthday to living legend and Tuskegee Airman Lt. Clayton Flowers on his 107th Birthday in Las Cruces this week.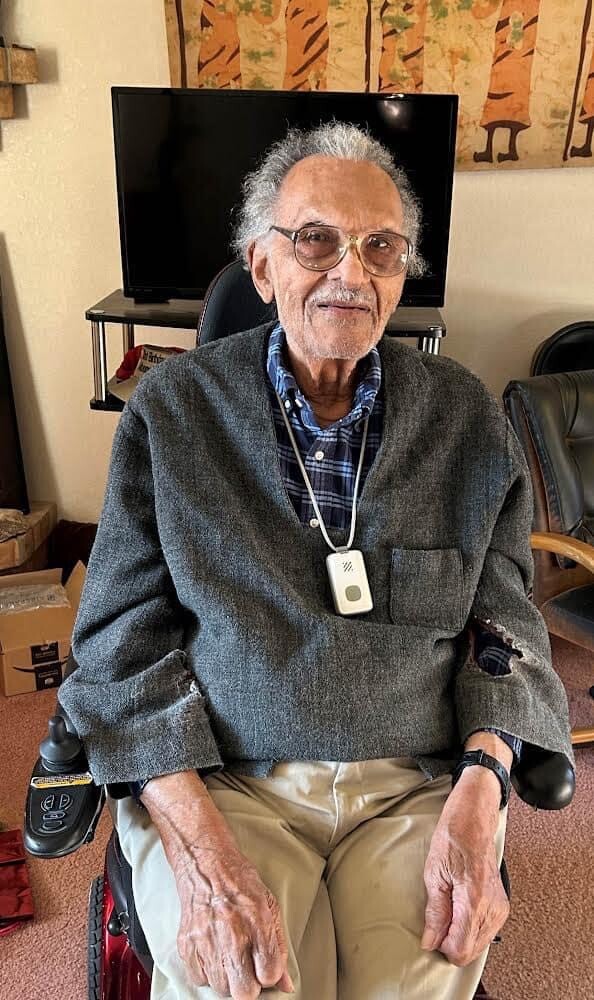 He was a pilot with the 99th Fighter Squadron, 332nd Fighter Group for five years.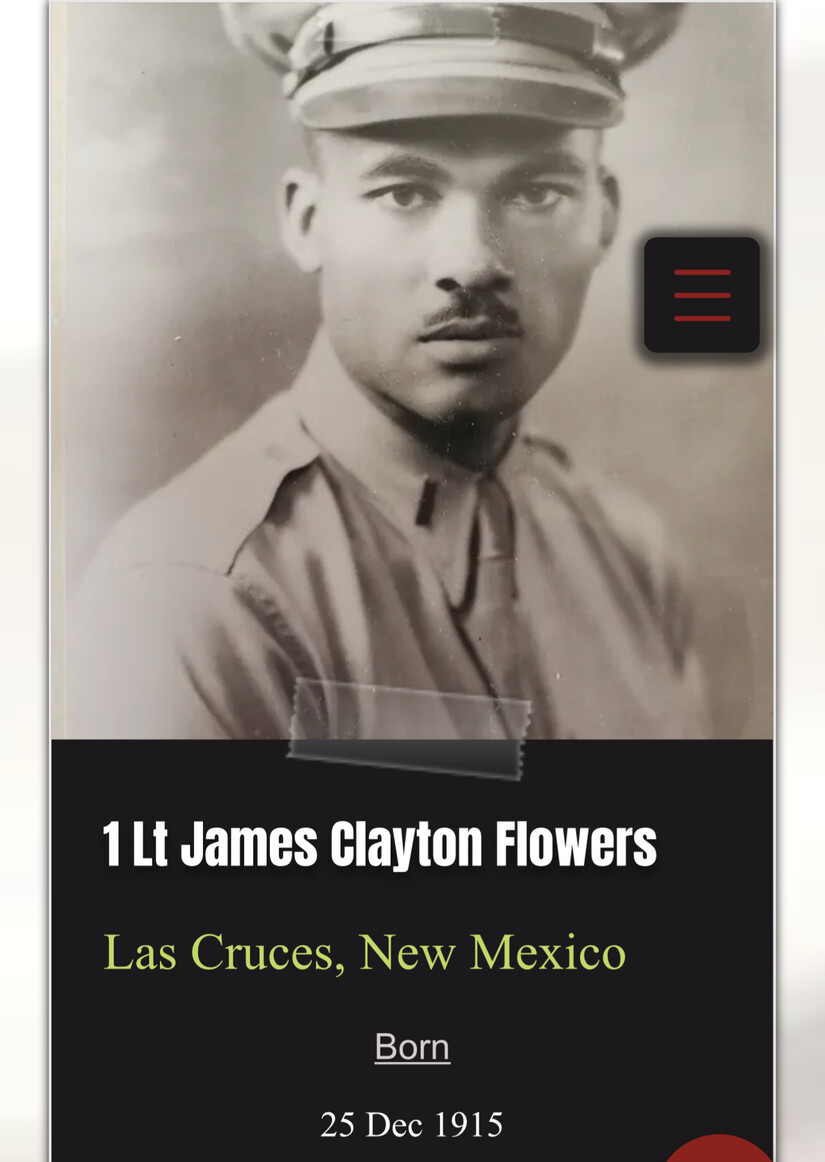 After WWII he and his wife Evelyn started a family. Flowers worked as a school teacher in the New York School System. After retirement he and his wife relocated to New Mexico. They had two children. 
New Mexico held a ceremony to honor the Tuskegee Airmen in March 2014. Flowers was present for the dedication at the New Mexico Veterans' Memorial.
Born in Virginia on Christmas Day of 1915, James Clayton Flowers was raised by an intellectual mother and an industrious father, both of whom instilled in their son the values of hard work, education and – something conflicting for a future military man – the tenets of pacifism.
Flowers is 107 now, living in relatively good health in a middle-class home in Las Cruces. He takes a few medications, primarily for asthma and allergies, and moves about his home, most often in a motorized ruby red wheelchair. When he stands, he's still a good height at 6 feet.
Last year he told the Albuquerque Journal "I lost three inches, I was 6 foot 3½ inches," he said while sitting in a sofa chair in his living room, legs crossed, large hands gesturing as he spoke. "I'm a big talker, at the same time, I am not very sociable. I could live on an island."
His philosophy of life is simple. "I don't feel like I am more important than anybody else. But it is important to like yourself, because you'll never get another one. And it is important to not dislike anybody else. I taught my children the same," he said.
Lt. Flowers military pedigree descends from one of Black America's most hallowed institutions: the Tuskegee Airmen of the 99th Pursuit Squadron.
Formed during World War II as the first flying unit for African Americans, this unit served with distinction in World War II's European Theater, gaining accolades for inflicting damage on the enemy while not losing any bombers in more than 200 missions.
Military archives show that the unit is credited with destroying 260 enemy aircraft, earning more than 850 medals, including 150 Distinguished Flying Crosses, a Presidential Unit Citation, Bronze Stars, Legions of Merit, Silver Stars, and the Red Star of Yugoslavia. The success of the Tuskegee Airmen, including the ground crew of which Flowers was a part, had a pivotal role in the decision of post World War II U.S. President Harry S. Truman to desegregate the U.S. military.
In 2007, the unit was awarded the Congressional Gold Medal.
The U.S. Congressional Record of this event lauded the Tuskegee Airmen for their role in American history, and the record stated that the primarily Black unit "inspired revolutionary reform in the Armed Forces, paving the way for full racial integration in the Armed Forces. They overcame the enormous challenges of prejudice and discrimination, succeeding, despite obstacles that threatened failure."
Lt Flowers in addition to being an honored veteran is a member of Americas club of centenarians.
The oldest documented age for a man is believed to be a Danish immigrant to the United States, Christian Mortensen, who died in 1998 at age 115. One man, Shigechiyo Izumi, is often reported as having reached the age of 120 before his death in 1986 in Japan, but his age has not been verified. Yukichi Chuganji, reaching age 114 in 2003, is believed to be the oldest living man. Maine resident Fred Harold Hall is the oldest living American man — at 112 years of age.
Some 50,000 Americans were reported as centenarians in the 2000 U.S. Census. Centenarians account for less than 0.2 percent of the 35 million persons age 65 or older.
Congratulations and Happy Birthday week to Lt Flowers on his many accomplishments and another year around the sun!