Christmas Eve NORAD Tracks Santa with Help from Holloman for Alamogordo's Kids
Image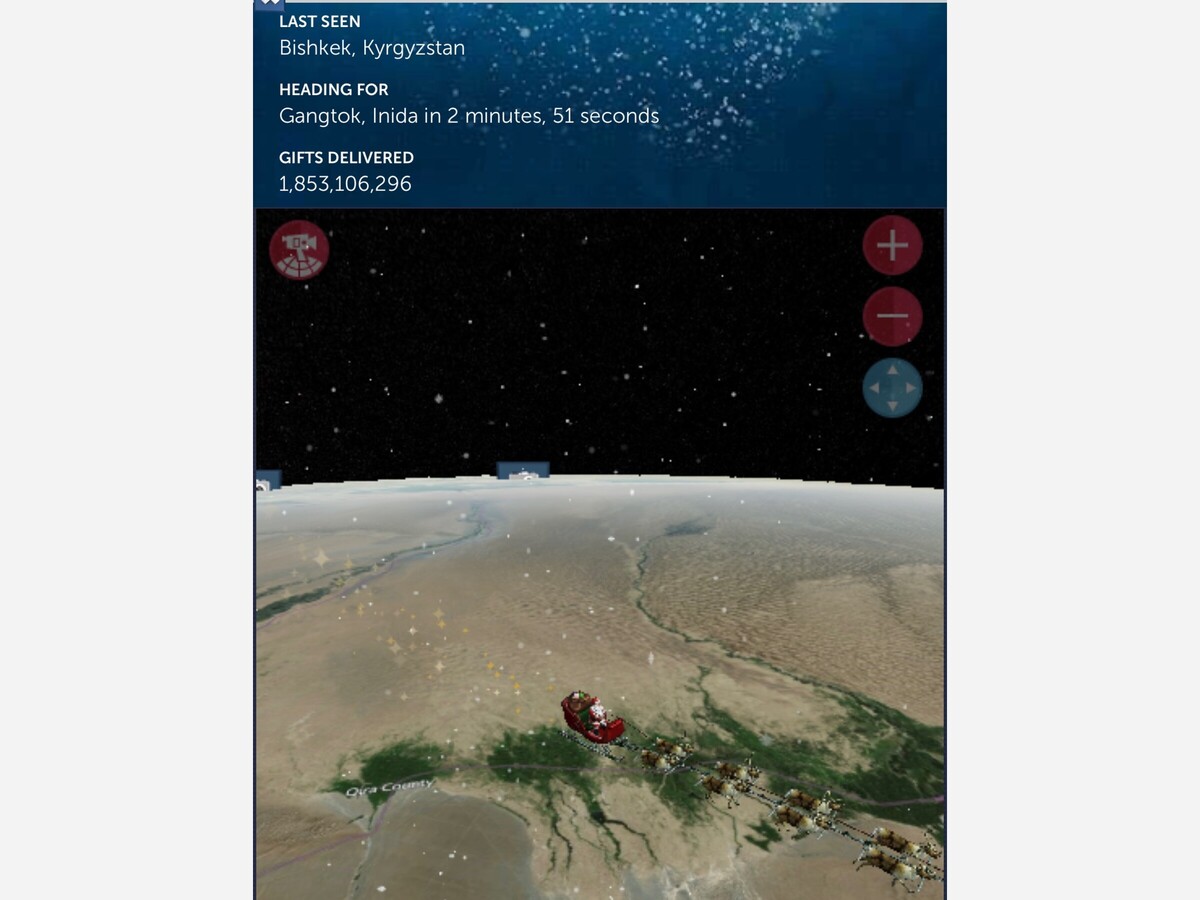 Alamogordo has a very close connection with the military as home and the convergence point to three military destinations. This Christmas Eve Alamogordo is cold and feels like a winter wonderland. The merchants of New York Avenue, Alamogordo have their window displays decked out in Christmas Cheer, the cool breeze over the White Sands looks of fresh snowfall and is excellent for sledding. The mountains of the Lincoln National Forest surrounding the city are blanked with beautiful snow caps. 
But all the eyes of Alamogordo's children are counting on the US military to track and ensure the safety of one man to make their dreams come true. All eyes are on NORAD and the tracking of Santa Clause.
It is already dark and Christmas Eve in parts of the world and Santa has begun his long journey. Santa Claus and his reindeer have a busy night of delivering presents to children all over the world.
But when will Santa reach the United States, and when will he fly over your state or neighborhood? You can use several popular Santa trackers this year, including ones from the North American Aerospace Defense Command and Google, to keep up with Saint Nick's journey as he travels from the North Pole.
NORAD has been tracking Santa Claus every year since 1958. But NORAD's predecessor, the Continental Air Defense Command started tracking him in 1955
The organization says it uses radar, satellites and jet fighters, even those locally from Holloman and most every major US Military Base on a very special mission  to follow Santa's route and ensure his success across the Globe.. Though they don't know exactly when Santa will arrive at Alamogordo homes, he starts at the International Date Line in the Pacific Ocean and travels west, going to the South Pacific, then to Australia, Asia, Africa, Europe and North and South America.
"NORAD coordinates with Santa's Elf Launch Staff to confirm his launch time, but from that point on, Santa calls the shots," NORAD confirms on its website.
An AirForce spokesman told AlamogordoTownNews.com that "every year the team at NORAD in collaboration Holloman AirForce Base, and US military installations across the world are on high alert Christmas Eve from the moment Santa takes off to the moment he lands on a safe return to ensure all the kids of the world get a visit from the feisty Saint Nic."
According to a pentagon statement; "Mission Santa Clause Success 2022 is the highest priority mission for America's military and the end result of children's smiles makes it all worth the huge undertaking and collaboration around the world. There is no better mission then ensuring Santa's success."
With approximately 750 Canadian and American military personnel and civilians volunteering to spread Santa's cheer. You can visit their website to keep up with Santa, or you can call a volunteer at Peterson Space Force Base in Colorado.
To visit Santa Tracker visit
https://www.noradsanta.org/en/map
you can also see how many gifts were delivered and more via 
https://santatracker.google.com/
From AlamogordoTownNews.com, Alamogordo ConservativeNews.org and KALH Radio; Thank you Space Command, NORAD and our airmen at Holloman and all over the world for ensuing Santa's success and making the Christmas in Alamogordo safe, fun and cheerful for children young and old. 
More News from Alamogordo