Representative Yvette Herrell Votes No Against Massive $1.7 Trillion Bill that Passed 225 to 201.
Image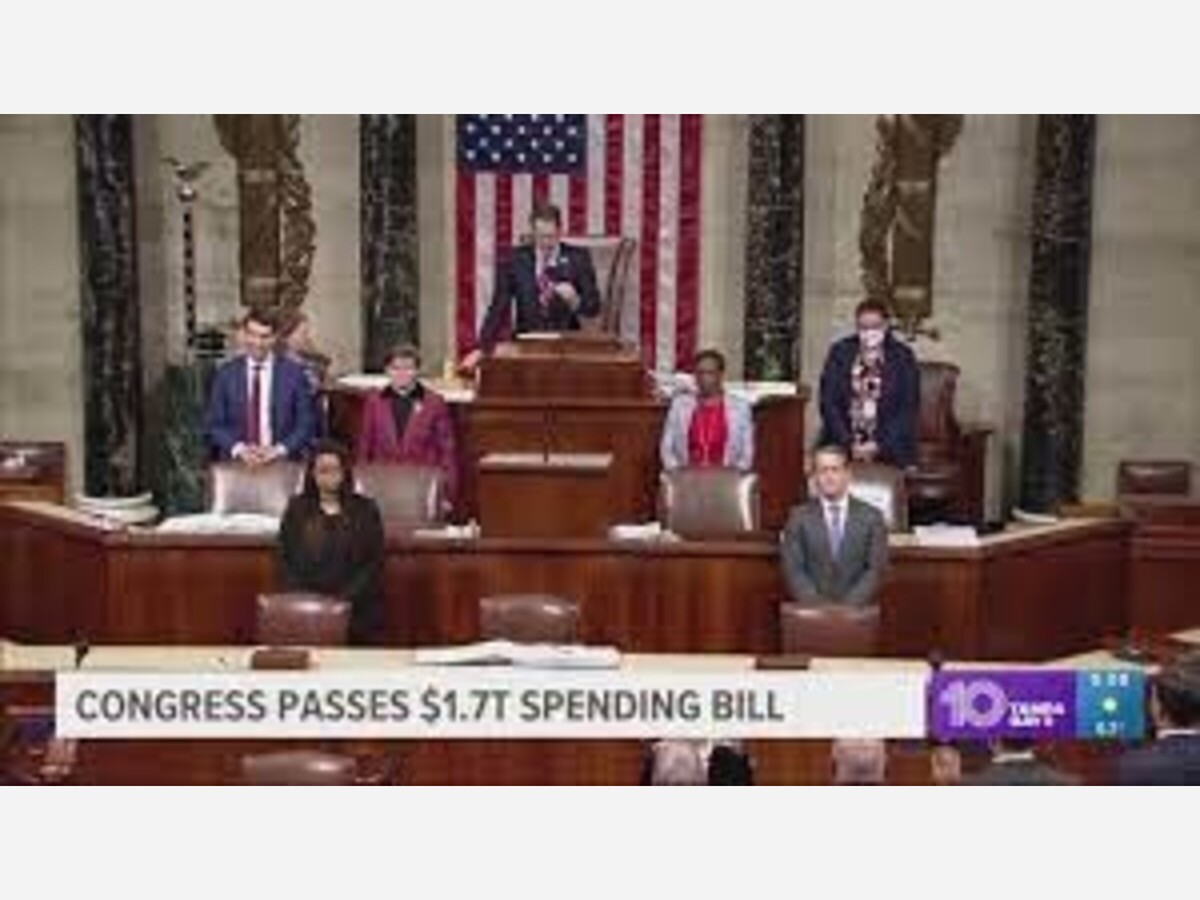 The United States House of Representatives on Friday voted to finalize a massive $1.7 trillion government funding bill, with New Mexico Representative Yvette Herrell voting No. The bill however passed both the Senate and the House sending it to President Joe Biden and marking the end of two years of Democrats controlling both chambers of Congress.
The vote was 225 to 201, largely along part lines. Nine Republicans voted for the measure, including outgoing Reps. Liz Cheney of Wyoming; John Katko and Chris Jacobs of New York; Adam Kinzinger and Rodney Davis of Illinois; Jaime Herrera Beutler of Washington; and Fred Upton of Michigan.
The package contains a major boost to military spending and nearly $45 billion in assistance to Ukraine. It overhauls federal election law by revising the Electoral Count Act of 1887 to try to prevent another Jan. 6. The bill funds a swath of domestic programs as well, averting a shutdown and keeping the government funded through next fall.
The legislation passed the Senate with large bi-partisan support on Thursday by a vote of 68-29 with 18 Republicans voting in favor of the bill even under threat from House Speaker McCarthy. 
The measure was negotiated by Democratic leaders and top Senate Republicans, including Minority Leader Mitch McConnell, R-Ky. It revealed a sharp split between Republicans in the two chambers, with House GOP leaders fighting to torpedo it.
House Minority Leader Kevin McCarthy, R-Calif., blasted the legislation and the process by which it was crafted, calling it "a slap in the face to every American that voted" to elect a House Republican majority in the 2022 election. McCarthy was playing to the far right in an attempt to ensure he gets the votes for speaker in January which is questionable.
In addition to the budget provisions there were details outlining in more detail the process for counting the electoral college votes. The election overhauls in the bill would make abundantly clear that the vice president cannot discount electoral votes, and the measure would raise the threshold to object to counting them from one member of each chamber to one-fifth of each chamber.
 McConnell was clear that it was "extremely important" to him to boost military spending above non-defense domestic spending, describing it as essential to combating China.
"We not only needed to help Ukraine, we also needed, within the defense budget, to dramatically increase it so the baseline next year is even bigger," McConnell, R-Ky., said on Wednesday. "We've spent an awful lot of money on domestic priorities over the last few years. Some of them are justified during the pandemic. But the current emergency is not here, it's over there."
The 2023 budget just for the Defense Department would total $797.6 billion in discretionary spending — a 10 percent increase over last year's budget — representing an extra $69.3 billion in funds for the Pentagon, which is $36.1 billion above the president's budget request.
One of the biggest chunks of that extra money is for shipbuilding — an extra $4 billion that brings the Navy's overall shipbuilding budget to $31.96 billion. That will allow it to buy 11 new ships, including three guided missile destroyers and two attack submarines.
But that is just the start. There is $8.5 billion to buy 61 F-35 fighter jets made by Lockheed Martin and another $2.5 billion to buy 15 of Boeing's new aerial refueling planes known as KC-46 tankers.
There is also an extra $27.9 billion to help cover Defense Department costs associated with the war in Ukraine, as part of an emergency aid package to the country. That includes an extra $11.88 billion to replenish U.S. stocks of equipment sent to Ukraine — money that again will largely be used to purchase products from military contractors. That supplemental appropriation also includes $9 billion to assist Ukraine with training, equipment and weapons, as well as an extra $6.98 billion to cover U.S. military operations in Europe.
The package also includes a collection of new rules aimed at helping Americans save for retirement. The bill would require employers to automatically enroll eligible employees in their 401(k) and 403(b) plans, setting aside at least 3 percent, but no more than 10 percent, of their paychecks. Contributions would be increased by one percentage point each year thereafter, until it reaches at least 10 percent (but not more than 15 percent). But this applies only to new employer-provided plans that are started in 2025 and later — existing plans are exempt.
Another provision would help lower- and middle-income earners saving for retirement by making changes to an existing tax credit, called the saver's credit, now available only to those who owe taxes. In its new form, it would amount to a matching contribution, from the federal government, deposited into taxpayers' retirement accounts.
More Specifics can be found at https://appropriations.house.gov/sites/democrats.appropriations.house.gov/files/Ukraine%20Supplemental%20Summary%20FY23.pdf
The bill will be signed into law by President Biden. This was the last significant vote of Representative Yvette Herrell who is leaving the capital but has made signs of running again in 2024.