Early childhood education advocates look for stopgap funding as they await a decision from Congress - By Shaun Griswold, Source New Mexico
Image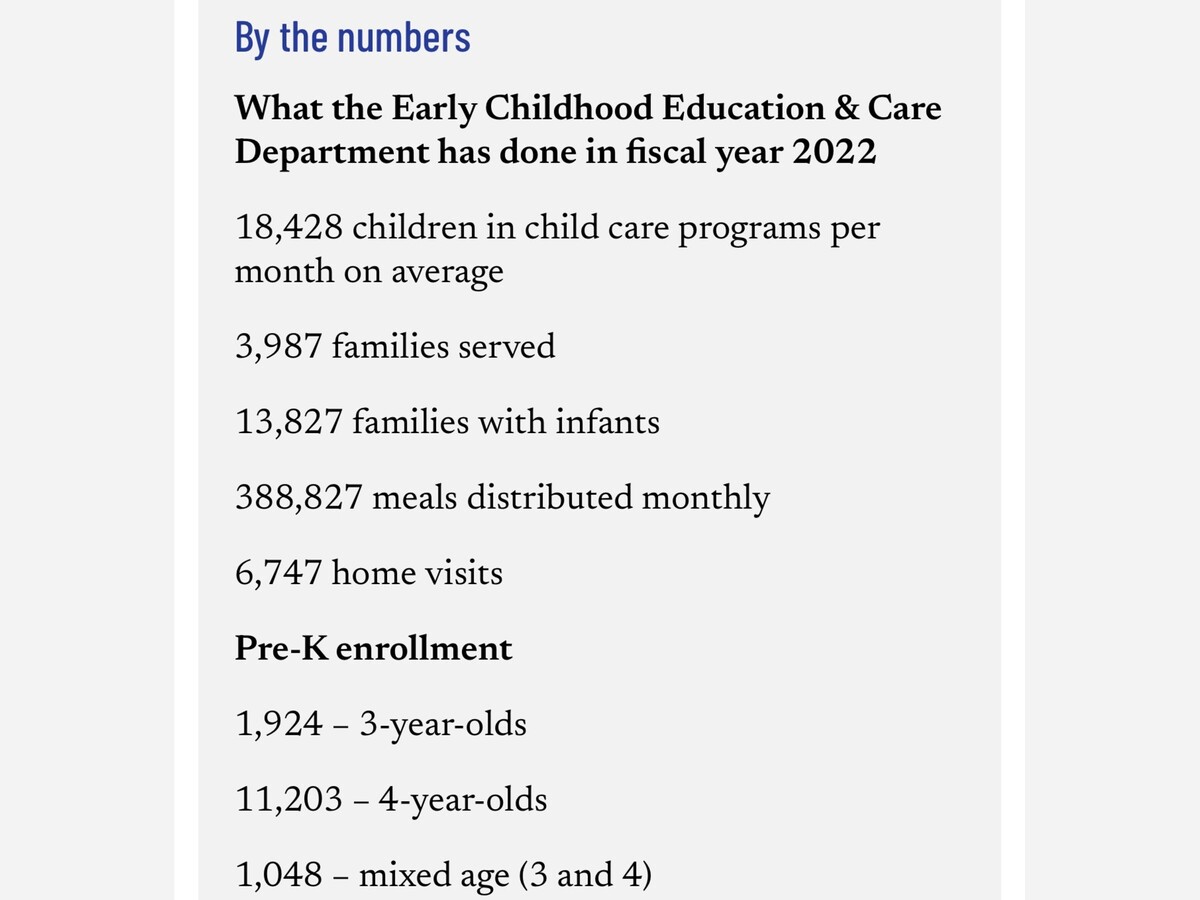 Early childhood education in New Mexico needs a bridge that officials say will cost almost $154 million.
This money could cover day care and preschool costs, help with recruiting staff and boost aid for working parents in the state until Congress passes a bill allowing New Mexico to move money from the Land Grant Permanent Fund into early childhood education, a measure that New Mexican voters overwhelmingly approved by passing Constitutional Amendment 1 during the November election.
New Mexico Early Childhood Education & Care Department Secretary Elizabeth Groginsky requested the "bridge loan" as a one-time appropriation from the state's General Fund on top of a $28.3 million request to increase the overall department's budget. In total, ECECD requested a budget of more than $453.6 million to operate facilities for children as young as newborns up to 5-years-old.
This budget will also include federal dollars and revenue from a trust fund that started with more than $320 million passed by lawmakers and signed by Gov. Michelle Lujan Grisham in 2020, the year after she signed the law creating the agency now responsible for early childhood education.
That trust will increase annually when Congress approves the measure passed by voters in the state to include more money from revenues generated by business on state lands.
With all those funding sources, Groginsky said the bridge loan will help maintain the agency's goals to provide free or low-cost child care and pre-K for every New Mexican family.
"We didn't really expand," she said. "We use federal funds, but we're asking for a bridge loan to get us to the future distributions from the trust fund. So we're not expanding in one year. We are here, and we want to continue without interruption."
Some members of the Legislative Finance Committee, who have met all week to listen to state agencies asking for higher budgets, sparked some hesitation about the request for early childhood education.
Sen. William Burt (R-Alamogordo) wondered when the agency would meet the needs of his rural constituents in Chaves, Lincoln and Otero Counties.
"Unfortunately, those kids aren't near proximity to agencies and facilities that can provide some of the services that they may need," he said.
Groginsky said the goal is to get an ECECD resource office set up in each New Mexico county. To date, she said the agency has worked with local school districts to set up child care facilities in public schools in places such as Gallup and Clayton.
"We can build the support for families, because families can't wait," she said. "Children are born, they need care. We need a workforce to come back to work, and we can't get them there without access to child care, early care and education."
Eduviges Hernandez is a community organizer in rural New Mexico with the group Somos Accíon. She came to Santa Fe from Hobbs with several dozen families and their children to witness the meeting and show support for the early childhood education budget.
The biggest issue she sees in setting up enough centers for every child in the state is a lack of quality pay for teachers and staff.
"I'm frustrated, because I can't believe that we need to fight more for their money to come to our rural communities," she said. "We've been hearing the teachers say that they don't have too much help in the schools. The classrooms are very saturated."
She said centers can have up to 15 children per educator, and bathrooms and other facilities need major repairs.
Similar issues are present for early childhood educators in Bernalillo County. Vanessa Rogers said she is in her 25th year working with the youngest New Mexicans and is excited at the amount of investment going toward early childhood education, but the need for better pay is causing staffing issues.
She works with a center run by YDI in the South Valley that serves predominantly Hispanic and Native American children. Pay at her facility starts at minimum wage, set to go up to $12 an hour in New Mexico in 2023, and staff can see higher salaries based on experience or licensure. However, most are making under $15. She wants to see at least a $4 raise for all employees.
"We are losing incredible teachers every single day. And cooks, maintenance workers and staff that are there to help these amazing kids," she said holding back tears. "And then the parents are like, 'Where did the teacher go? She was amazing.' I tell them, I''m sorry, they have to go somewhere where they can make more money.'"
Rogers said she wants lawmakers to approve the bridge loan to get money to the schools and meet the will of the voters now.
"We're preparing doctors, lawyers, you know, a whole array of kids for the future," she said. "This time from birth to five is critical. It's when they learn the most, but the pay for the teachers is the least. What does it say about New Mexico when we're not providing the people who are preparing the future with adequate wages?"
To learn more and About the Journalist:
Shaun Griswold is a journalist in Albuquerque. He is a citizen of the Pueblo of Laguna, and his ancestry also includes Jemez and Zuni on the maternal side of his family. He grew up in Albuquerque and Gallup. He brings a decade of print and broadcast news experience. Most recently he covered Indigenous affairs with New Mexico In Depth. Shaun reports on issues important to Native Americans in urban and tribal communities throughout the state, including education and child welfare.