Alamogordo Public Schools News & Updates
Image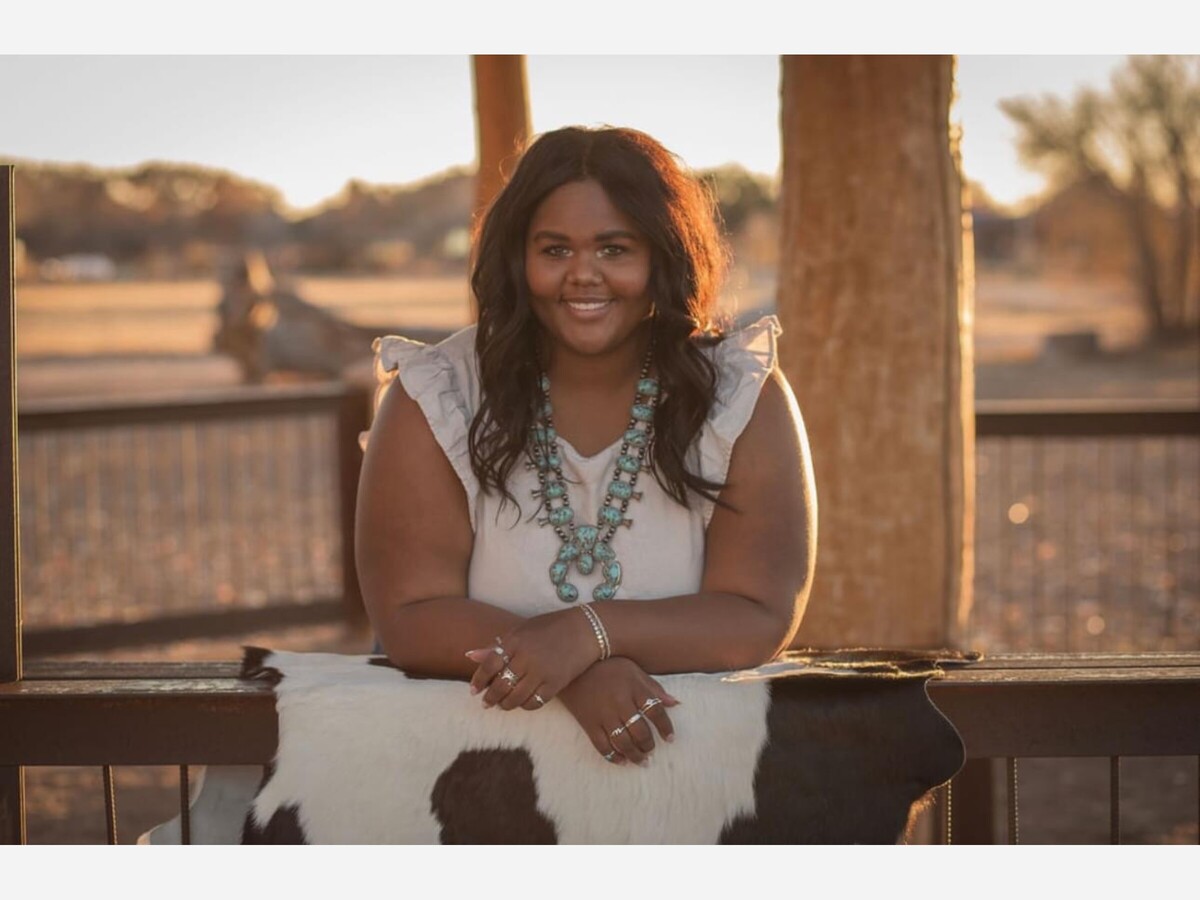 CONGRATULATIONS to Alamogordo High School Senior and CTE Student, Mirhonda Good on your selection as a nominee for the US Presidential Scholars Program! We are so proud of you! Awesome news for an Awesome Tiger!!
District and school leaders nominated 55 outstanding 2023 graduating seniors for the U.S. Presidential Scholars Program, one of the highest national honors a high school student can receive. Secretary Steinhaus chose 25 students from the nominees to forward to the White House Commission on Presidential Scholars. The Commission makes final selections based on students' academic accomplishments, school and community involvement, the arts, and career and technical education fields.
The 25 nominees will receive an application in January. One young woman and a young man will be named from New Mexico.
Semi-finalists and finalists will be notified in the spring, with winners being named in May 2023
A wonderful evening of music and laughter was had at High Rolls Mountain Park vía a student production. The audience was invited to join in the singing and Santa Claus was in the house.
On Saturday, December 3rd, Alamogordo Public Schools, The Counseling Center, and 100% Otero came together for a Pedestrian & Bike Safety Rally. Children and adults came by to be fitted for a FREE bike helmet, courtesy of the NM Brain Injury Advisory Council.
Thank you, also to Alamogordo Police Department, NM State Police, APS HOPE Team, NM HELP HeadStart for sharing safety tips. We appreciate all of the families who showed up, even with the rain! And at the end of the day we gave away 4 bikes! Kym Orr, Nalani Harrison, Michael Stanton, & Melissa Garvin were our four winners! Congratulations!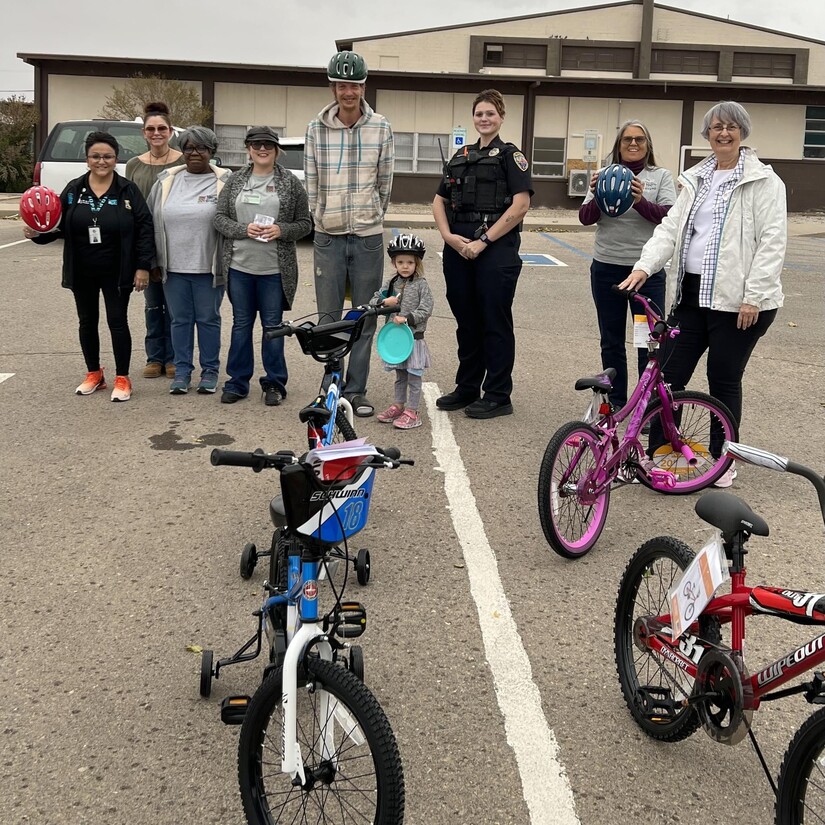 In the Season of Giving, the Alamogordo Public School HUB was happy to share recent donations of food with Love INC today. Before the Thanksgiving Holiday, students collected enough food, not only for APS families, but enough to share with our community. APS was proud to partner with Love INC and appreciate all of the hard work they do for APS and Otero County!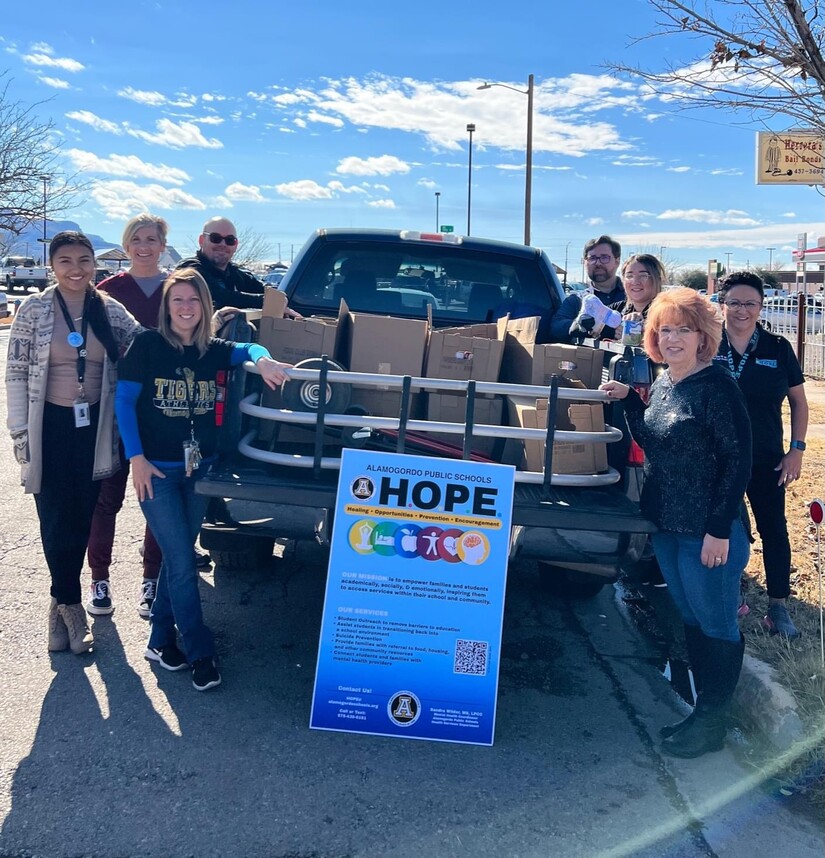 Our community has been so generous, it is our turn to give back! In true partnership, Alamogordo Public Schools & Burt Broadcasting, Inc. came together to Stuff the Bus to support the Salvation Army's Angel Tree Program on Saturday.
With help from APS Health Services, Transportation, retirees AND the Otero County Fair & Rodeo Queens Association collecting toys as cars drove through, our generous community donated over 200 toys and cash donations! The Queens also collected blankets for local nursing homes.
Thanks to everyone who donated time, money, toys and more to help the less fortunate during the holiday season!