Respect for Marriage Act Passes House & Senate Representative Herrell Votes Nay
Image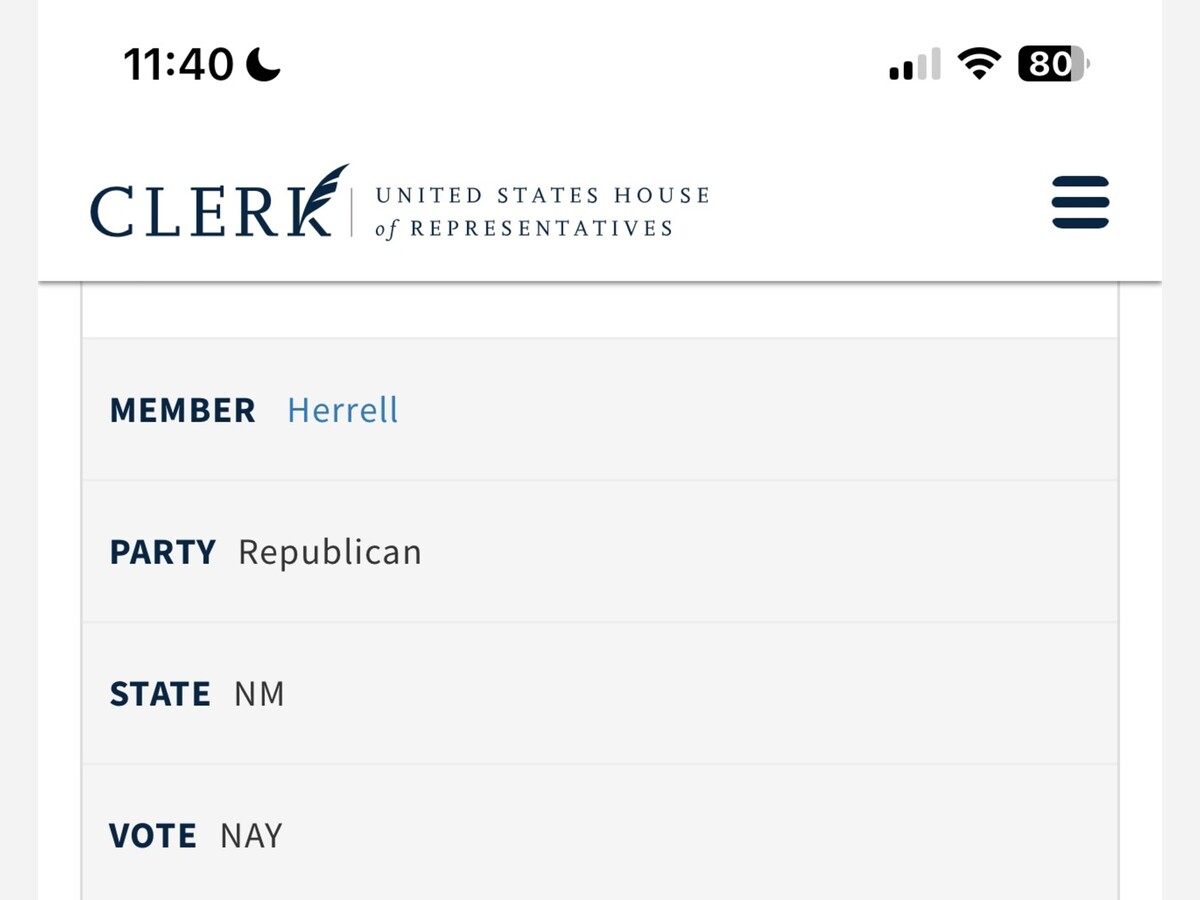 In a bill that codified interracial marriage and LBGTQ marriage into law, Representative Herrell voted Nay. 
 The bill overwhelmingly passed the Senate with 60 votes and bipartisan support and overwhelmingly passed the house with a vote.  
New Mexico Representatives Teresa Leger Fernandez and Melanie Stansbury, along with 47 Republicans, passed the Respect for Marriage Act, which would establish marriage equality as the law of the land at the federal level for interracial marriages as well as Gay Marriages. 
Respect for Marriage Act
This bill provides statutory authority for same-sex and interracial marriages.
In the more than half-century since, interracial marriage has become more common and far more accepted. Some were surprised that Congress felt the need to include an additional protection in the Respect for Marriage Act, which would ensure that not only same-sex marriages, but also interracial marriages, are enshrined in federal law.
However the reality is without this act the Supreme Court could have technically overridden interracial marriages along with gay marriage if the right case came before the courts questioning marriage between a Caucasian individual and one of color (African American, Native American, Hispanic, Asian etc) 
Mildred Jeter, a Black woman, and Richard Loving, a white man, were arrested and charged in 1958 with marrying out of state and returning to Virginia, where interracial marriage was illegal. Their challenge to the law led to Loving v. Virginia, the landmark ruling that ended bans against interracial marriages.
For younger interracial couples, the thought that their right to marry could ever be threatened is a foreign concept.
"We never in our wildest dreams thought we would need to be protected as an interracial couple," said Derek Mize, a 42-year-old white attorney who lives in an Atlanta suburb with his husband, Jonathan Gregg, 41, who is Black, and their two children.
As a same-sex couple, they were at the forefront of the long struggle for acceptance and felt the elation that followed the 2015 Supreme Court decision legalizing same-sex marriage across the country.
Still, they see the need for new protections for interracial marriages as well.
"We're really relieved that there is this law," Mize said. "Protections through the courts and protections through the legislation certainly helps us sleep better at night."
Mize said he remembers studying Loving v. Virginia in law school and thought then that it was "ridiculous" that there had to be litigation over marriages between people of different races. But after he read the Supreme Court's ruling overturning Roe v. Wade, he said: "Who knows where it will stop?"
Specifically, the bill also replaces provisions that define, for purposes of federal law, marriage as between a man and a woman and spouse as a person of the opposite sex with provisions that recognize any marriage between two individuals that is valid under state law.
(The Supreme Court held that the current provisions were unconstitutional in United States v. Windsor in 2013.)
The bill also replaces provisions that do not require states to recognize same-sex marriages from other states with provisions that prohibit the denial of full faith and credit or any right or claim relating to out-of-state marriages on the basis of sex, race, ethnicity, or national origin.
(The Supreme Court held that state laws barring same-sex marriages were unconstitutional in Obergefell v. Hodges in 2015; the Court held that state laws barring interracial marriages were unconstitutional in Loving v. Virginia in 1967.)
The bill allows the Department of Justice to bring a civil action and establishes a private right of action for violations.
The bill does not (1) affect religious liberties or conscience protections that are available under the Constitution or federal law, (2) require religious organizations to provide goods or services to formally recognize or celebrate a marriage, (3) affect any benefits or rights that do not arise from a marriage, or (4) recognize under federal law any marriage between more than two individuals.
The irony of a vote cast against this bill by the local Representative that identifies as Native American cannot be lost. Without the protections of this bill she could potentially have been barred from marriage  as could have been family members of the Representative if the Supreme Court rolled back Loving v Virginia, or Obergefell v. Hodges. Good governance means compromise and setting one's personal bias aside for the good of society.