Jamie Dennison's Alamogordo December Don't Miss Events List
Image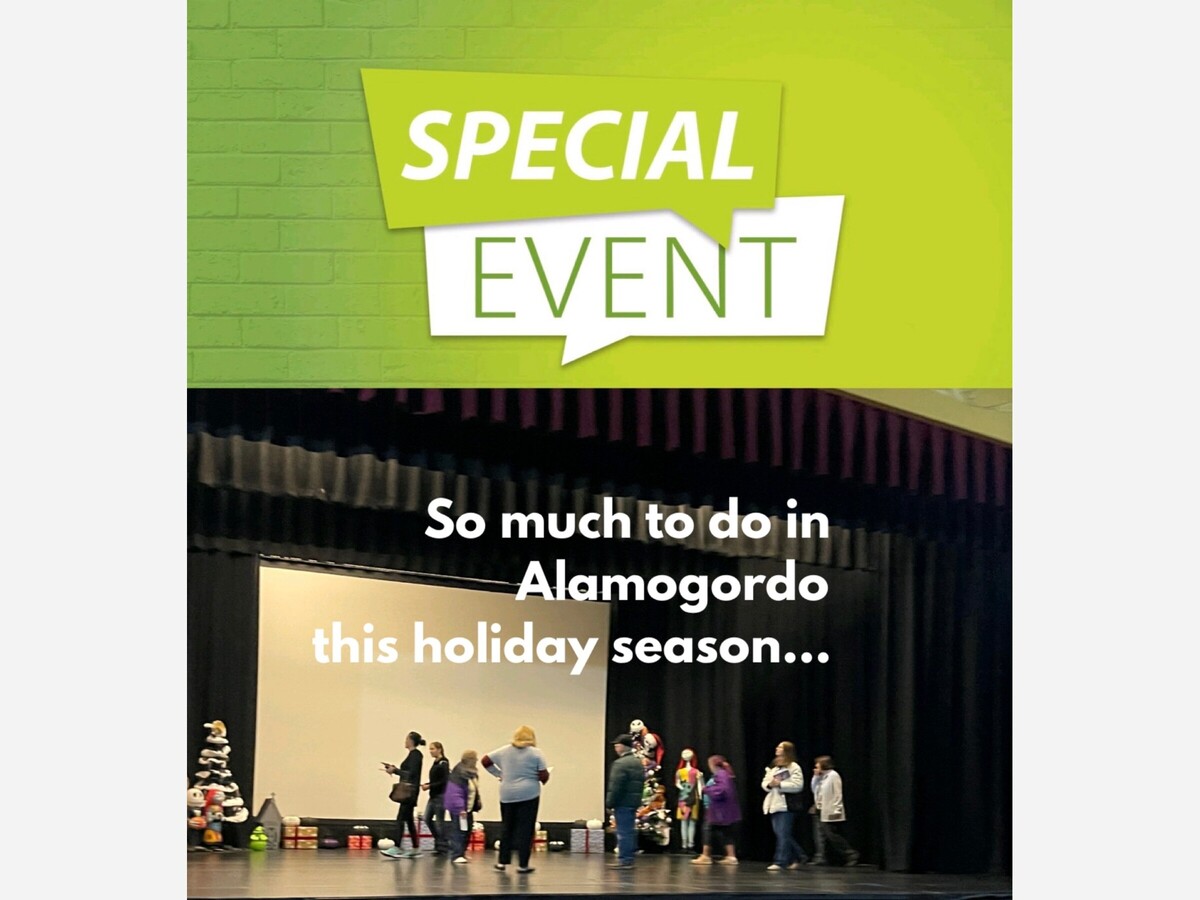 There is so much to see and do in Alamogordo this holiday season check out just some of the LOCAL EVENTS IN ALAMOGORDO & SURROUNDING AREA Story and list compiled by Jamie Dennison…
*Not all inclusive, updated 11/30/22. Does not include all of Holloman AFB events.
DECEMBER EVENTS
12/1/22, Thursday 630pm: Winter Wonderful @ First America Bank: Boys & Girls Club of Otero County and First American Bank annual fundraiser. Items will be auctioned off
12/1/22, Thursday, 5-7pm: Soaring Heights at Holloman AFB, Home for the Holidays events for residents. Only for air force base residents of Soaring Heights
12/1/22, Thursday from 3-6pm: Santa will be visiting Books Revisted at the White Sands Mall. Selfies for $5.00 and signing his book "the littlest elf a Christmas adventure" for $15.00. Free selfies with the book purchase.
12/2/22, Friday: Downtown Nights with live music of Sage Gentlewing on New York Avenue
12/2/22, Friday, 4pm-8pm: Holloman AFB Base Tree lighting at 630pm. Tubing, train rides, carriage rides, craft tables, hot chocolate, live entertainment, food booths and much more. Base access required. BX parking Lots. Christmas trees available too starting at 4pm, no early birds. Located on base, BX parking lot.
12/2/22: Friday, 5-7pm: Cloudcroft Art Society Holiday Arts and Crafts Show @ Otero County Art Space, 575-446-3880, 1118 Indiana Avenue Alamogordo, Otero Arts Inc | Alamogordo NM | Artspace
12/2/22, Friday, 530pm: Mescalero Christmas Light Parade`
12/3/22, Saturday, 10-4pm: Christmas Kitties & Dogs Adoption sponsored by Kitty City @ White Sands Mall
12/3 & 12/4: Saturday & Sunday: Holiday Extravaganza @ Heart of the Desert Pistachio & Winery. Event if Free, food trucks on site, local crafters will be selling their stuff
12/3/22, Saturday: Blood Drive at Casa Toyota from 930 to 230pm, register at https://tinyurl.llc.vvMhVr
12/3/22, Saturday, 2pm-4pm: Alamogordo school district Bike Safety at the APS HUB (across from the post office). Free Helmets, free helmet fittings, a chance to win a bike. Food Trucks and community partners will be there during this event time.
12/3/22, Saturday, 9am-4pm: Stuff the Bus Holiday Edition by the Alamogordo Public Schools, located at the APS Hub at 805 E 12 Street. Consider donating a toy and dropping it off at this location. They have partnered with the Salvation Army to donate toys to them for their Angel Tree. Otero County Fair & Rodeo Queens will be collecting blankets to give to nursing homes too.
12/3/22, Saturday, 4pm-9pm: Christmas on Main Street, New York Avenue Alamogordo. The Flickinger Center will have pictures with the Grinch available and hot chocolate, Patrons Hall will have crafts for kids and NY Avenue will have events/vendors/car show. *5-515 Santa Arrival, 515-545:St Francis Cabrini Choir, 545- 615: Ugly sweater contest, 615-7pm St Francis De Paula Flkloric Dancers, 7-730pm: Childrens music center of Alamogordo singing, 730-815: Bells of Grace, 815-845: Hannah Peterson. Flickinger Side: 530-830: Dose Dirtbags, 6-630pm: Bailarinas De La Immaculatada Maria, 830-900pm: Anala Nahada, 4-9pm: Pictures with the Grinch
12/3/22, Saturday, 5-8pm: Cloudcroft Christmas Parade. If you are interested in having a float or entering sign or up online at: www.coolcloudcroft.com or call 575-682-2733
12/3/22: Saturday, 6 to 8:30pm: Mountain View Church hosts a Special Needs Christmas Dance
December 3 and 4, 11a to 5p. Holiday Extravaganza at Heart of the Desert Pistachios & Wine . Over 20 Artisan Vendors, plus amazing food trucks Triple Nickell BBQ, Smoothie Q's, Cafe Con Leche, and store wide discounts.
12/4/22 10-5pm & 12/5/22 7 to 11am: Holloman AFB Cookie Drive. Cookies should be individually wrapped to 3 cookies per baggie and dropped off at either the Arts & Crafts center on base or the Chamber of Commerce between the listed hours.
12/4/22, Sunday, 10am-2pm. C.T. Truckin Toy Drive at Margo's Parking Lot, Donate unwrapped gifts for the toy drive
12/6/22, 12pm: Tuesday: Join us at the GCRMC Conference Center at 12pm for a luncheon with a new provider, Dr. Kimiko Sugimoto Blair to learn more about the new bariatric surgery program. Free luncheon, but seating is limited and RSVP is needed. Call Lillie Lewis at 575-443-7850 to RSVP
12/7/22, Wednesday, 9:00 to 1245pm: Once Upon a Time Photography LLC will be offering family photos for $25.00
12/7/22, Wednesday: 9am to 1:00pm: Alamo Senior Center Holiday Craft Fair. The Alamo Senior Center is hosting a Holiday Craft Fair from 9 a.m. - 1 p.m. There will be arts, crafts, jewelry, and much more! If you want more information on this event, or if you would like to participate as a vendor, please call (575) 439 - 4150.
12/9/23: Friday, 600pm: Alamogordo Christmas Tree Lighting at Washington Park. Smores for $1, free hot chocolate for the first 100 people, and a special visit from SANTA
12/10/12: Saturday. 530pm: Christmas Parade down Mainstreet, register by 12/5/22 by 4pm
12/10/12: Saturday 10-4pm: Christmas Kitties & Dogs, Sponsored by Kitty City, at White Sands Mall
12/10/22, Saturday, 6-730pm: Wish Granted Foundation, Princess Winter Tea Party . No tickets sold at the door, purchase in advance, will be held at the Knights of Columbus Hall. Purchase tickets at Princess Winter Tea Party - eTickets.to
12/10/22, Saturday, 10 to 12pm: Cookies with Santa for Sierra Elementary Students hosted by the Sierra PTA. Bring money for pics with Santa
12/11/22, Sunday, 9am to 2pm: Blood Drive at Casa Toyota. https://tinyurl.llc.vvMhVr
12/11/22, Sunday : Sonja's Christmas Tree Giving: Hosted at Mountain View Church. For 30 families max, Applications required ahead of time. Call 575-437-4626 to get an application
12/12/22, Saturday, 915am to 2pm: Blood Drive at Casa Toyota. https://tinyurl.llc.vvMhVr
12/12/22, Monday, 430pm: Sip and Paint at Road Runner Emporium
12/13/22, Tuesday, 7pm: Mariachi Christmas at Flickinger Center
12/15/22, Thursday, 6-9pm: Luminarias at the New Mexicos School for Blind & Visually Impaired. Weather permitting, at 630: Hot chocolate and cookies with caroling at the gazebo.
12/15/22, Thursday, 3 to 5pm: Casa Toyota location. Sign up to register your team to distribute gifts to families.
12/16/22, Friday, at 7pm: The Nutcracker at NMSU Center of the Arts
12/17/22, Saturday at 4pm: Cloudcroft Light Opera Company presents SantaLand. Hot chocolate and apple cider and Santa arrives at 5pm. Located at the CLOC Pavilion.
12/17/22, Saturday, 10am- 4pm: The Alamogordo Christmas Miracle : Toy Drive. 700 E Frist Street, at the Granada Shopping Center. Meet Santa, Live Music Vendors, Car Show, Food Trucks. Register your kids now, Free event, and Donate. www.christmasmiracle2022.wixsite.com/alamgordo Contact # 505-410-1375
12/17/22, Saturday, 10-4pm: Christmas Kitties & Dogs for adoption, sponsored by Kitty City, located at White Sands Mall. Pet Adoption.
12/22/22, Thursday, 9am to 3pm: Xtreme Amplitude Gymnastics will have a Kinder Day Camp for ages 4 to 8pm, Must be fully potty trained and register on the xtremeamplitude website. $55 per child
12/24/22, Christmas Eve: Contact Chez at 575-415-0524 to help with the clean up, distribution and delivery of meals to first responders. Christmas Eve: Drop off prepared food hot and ready at the Desert Hills Church of Christ, 1900 23rd Street between 4 and 6pm. First responders can begin to drop in at 6pm till clean up at 930pm. Left overs get delivered to the hospitals/ER.
12/29/22: Thursday 9-3pm: Xtreme Amplitude hosts a Kinder Daycamp, Must register on Xtreme Amplitude website. Cost is $55. Ages 4 to 8pm, Must be potty trained
12/31/22, Saturday, at 3pm: Nutcracker Magical Christmas Ballet at El Paso Live 1 Civic Center Plz El Paso, TX
AlamoJumo hours: Wednesday 2-6pm, Thursday 9-12, Fridays 9-12 & 4-7pm, Saturdays 11-6pm
Santa Picture Opportunities
White Sands Mall-
12/11: SensorySanta 11am-12pm
12/7 & 12/14: Pet Nights
12/4: 12-4pm, 12/7: 5-7pm (pet night), 12/10: 10-4pm, 12/11: 12-5pm (Sensory 11-12), 12/14: 4-7pm, 12/15: 4 to 7pm, 12/16: 4 to 7pm, 12/17: 10-1pm and 2-6pm, 12/18: 1-5pm, 12/21: 2-6pm, 12/22 2-6pm, 12/23 2-6pm.
Washington Park- 12/9/22: at the Christmas Tree Lighting
Santa Land- 11/26/22 at Cloudcroft @ CLOC Pavilion
Need a Rental Space (not all inclusive)
1. Rocket City – www.RocketCt.comclick reservations and parties at the top right or email events@rocketct.com
2. Alamojump- # 575-446-3932
3. Patrons Hall/ Flickinger Center- call 575-437-2202 if interested in hosting an event there
4. Tea Shed- 575-921-1677, teashedevents@gmail.com
5. Elks Lodge- 575-437-1897
6. Desert Lakes Golf Course- 575-437-0290 for Banquet Reservations. They have a banquet room that can seat up to 100 guest or can also open up the patio to accommodate up to 160 people
7. Wiley Estrada Civic Center
8. The Great Masterpiece by Diana Sill: Book painting parties up to 30 painters, call # 320-216-5845
9. Otero Art Space:
10. Les Combes Winery
11. Carinos Italian Restaurant
12. Heart of the Desert Winery
13. Alamedo Zoo
Sip & Paint Classes @ Roadrunner Emporium
November 14th, 21th, 28th: 530-830pm. Roadrunner Emporium: Diana Sill Fee is $35.00 includes all supplies and refreshments. Class SIZE is limited. RSVP required for this class due to popularity. Call or text 707-880-6238 or email cedwards121788@icloud.com
December 5th, 12th, 19th, 26th: 530-830pm. Roadrunner Emporium: Diana Sill Fee is $35.00 includes all supplies and refreshments. Class SIZE is limited. RSVP required for this class due to popularity. Call or text 707-880-6238 or email cedwards121788@icloud.com
New Store at the Mall
Galactic Toys & Mores:
· Now open at the White Sands Mall, Monday-Thursday 10-8pm and Friday & Saturday 10-9pm, Sunday 12-6pm
Coming Home for Christmas
· Located by Big Lots side, Monday thru Friday 10-7pm and Sundays 12-6pm
*ClayTime is staying open in the Granada Center and is changing their facebook page to: Clay time Pottery Ceramics Part 2 (please find and like them on facebook). The new owner will post updates and notifications on this page. Hours open: 10-6pm Tuesday thru Saturday