AlamogordoTownNews.com Ballot Initiative Gets Required Signatures
Image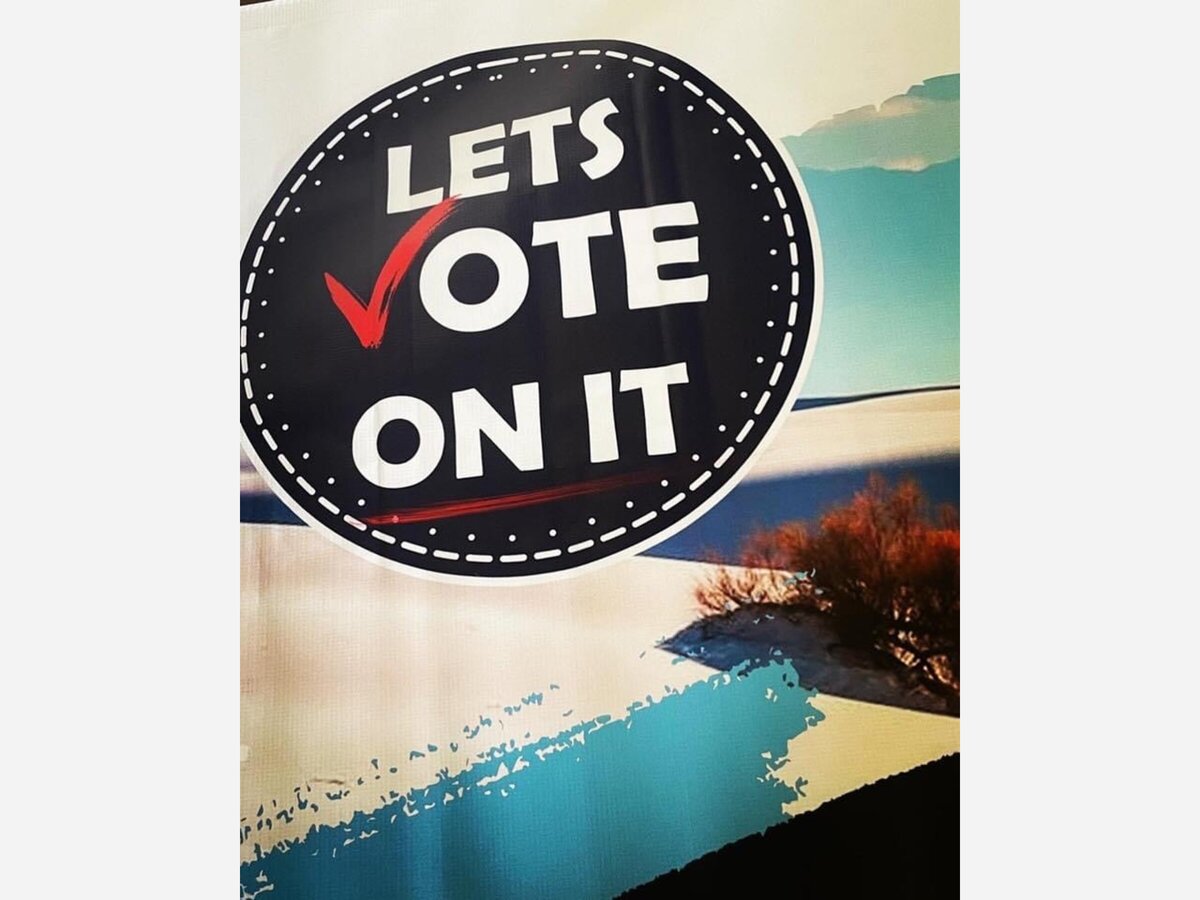 Under a short deadline of just a couple of weeks, and a novice that has never organized any political campaign, local activist Ashlie Myers looks to have met her goal today.
Ms. Myers ended her day close to 5 pm today turning in more than enough signatures by local citizens to place resolution 2022-38 on the ballot and let the "citizens decide."
In a tearfully happy interview with KALH's Anthony Lucero, choked up and proud she met her goal she declared, "democracy won today."
Ms. Myers is not part of the insiders club of Alamogordo or Otero County activists from within the Democratic or Republican Party. She is new to political activism and not backed by an organization infrastructure.
As a citizen and on her own, she went to the city charter, she read rather or not citizens have recourse concerning the city commissioners passing resolutions or ordinances that the citizens may or may not disagree with. What she found is a section in the city charter that does allow citizens to bring a resolution to vote if they citizen gets enough signatures within a very short timeframe.
The resolution in question was approved by the the City Commission during an Aug. 2 special meeting that declared the City a "sanctuary for the unborn" seeking to ban the medical practice of abortion and other activities commissioners believed could put fetuses at risk. The resolution has no power or law and was approved by a 5 to 2 vote along gender lines with the Republican Mayor and Democratic female Commissioner opposing the resolution. 
They mayors' reasoning is "this is not an issue that needs city attention, no abortion clinics are proposed for Alamogordo, the  city should be focused on job growth, crime prevention and infrastructure."
Alamogordo resident Ashlie Myers spearheaded the referendum, seeking to put the resolution on the ballot as she felt the people of Alamogordo were ignored when commissioner approved the motion.
Myers with some volunteers from New Voices Otero, and other individuals partnered for a signature drive which gave them until Sept. 1 at 5 pm, to collect enough signatures to trigger a referendum.
Myers was at the corner of White Sands Boulevard and 10th Street Sunday, Aug. 28 through Thursday, Sept. 1 gathering signatures. She garnered more then the required number with a buffer of additional signatures in case a few are kicked out for whatever reason. 
One of the reasons many people have given to wanting to sign the petition is that a majority of the public comment before and during the special meeting on Aug. 2 were against the resolution declaring Alamogordo a sanctuary for the unborn.
AlamogordoTownNews.com representatives dropped by the signature gathering location today to see how they were progressing. What we witnessed during our time there was at least a few Republicans, several  Independents and several Democrats signing the petitions.  We asked a Republican woman why she signed, not giving her name as she "did not want to be challenged by her neighbors by giving her name" said, "it my decision and the voters should have a say, how many of those 5 men that voted the way they did have adopted children? The public should be heard."
We reached out to Joshua Beasley, chairman of the Otero Republican Party, his response was "we will wait and see if they actually made the threshold."
We reach to Commission Melton for comment. Mr Melton's domestic partner sent out an inflammatory email the day prior with accusations Ms Myers was misusing the acquired signatures for harvesting. We asked for proof from Mr Melton of the acquisition. He read the questions but have no written response to the accusations proving them to be false based on the laughter emoji on a Facebook to followup on a page asking for proof. Mr. Meltons Facebook response of a laughter emoji further raises into question concerning his professionalism and respect for the office he holds.  He obviously thinks it's funny to spread rumors or innuendos. Whereas a professional political leader would have responded with "proof" or responded back that the accusations were "just political theater." 
His response shows he does not take the role of responding to press or his constituents concerns with professionalism.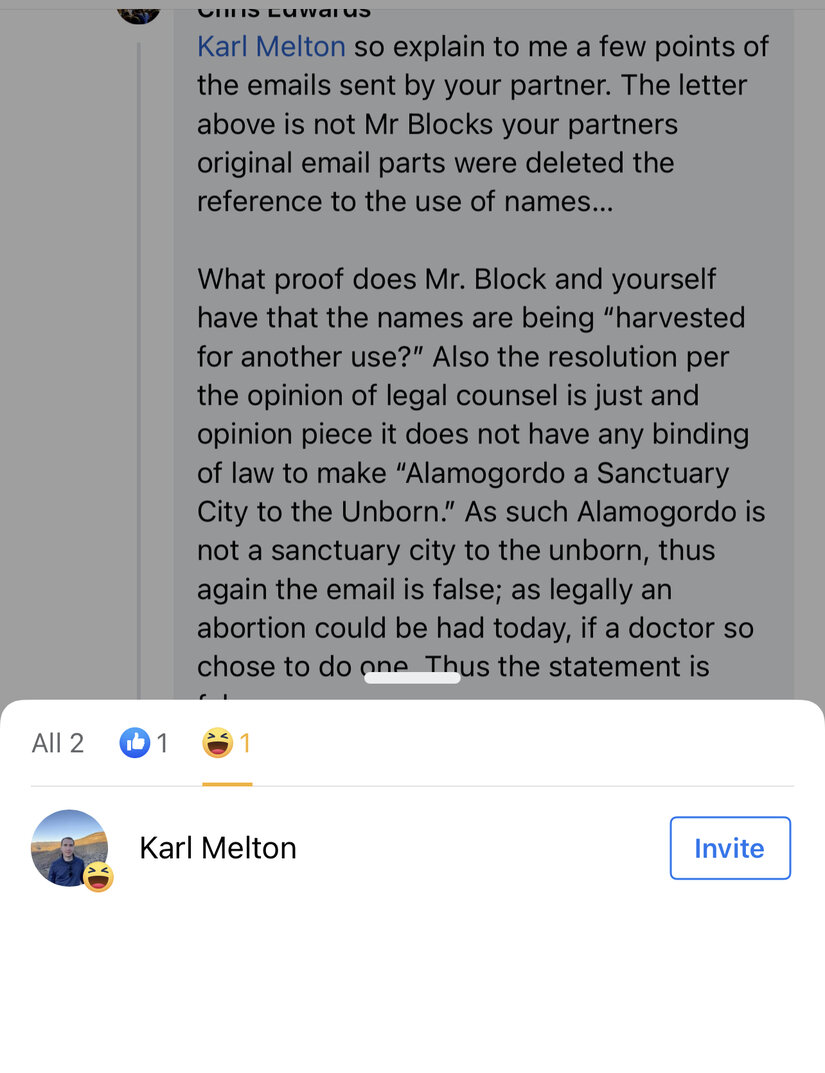 We asked for comment concerning Ms Myers turning in the required signatures and received "no comment." 
Politics is a professional community service it is not a game as peoples lives are impacted by the decisions, actions and behaviors of our elected leaders. A lack of professionalism by elected leaders further degrades the value the public puts on the political process and further devalues the trust the public places in elected officials thus further eroding a commitment by the public to vote and participate in the democratic process.
Rather Ms Myers succeeds in getting the number of signatures qualified or not is yet to be seen, as that is in the hands of the County election clerks office. 
However, one thing remains a clear lesson in this process; Ms Meyers as an independent citizen took action and thus far has been a professional in her approach. 
Candidate Block and his domestic partner, appointed Commissioner Melton, has shown a disrespect for a least a portion of their constituent community and a lack of proof in accusations they are spouting in rebuttal to the issue at hand.
Does all of this matter?
The resolution in question has NO force of law so the idea that abortions can't happen in Alamogordo nor Otero County is a wish it is not a fact.
Alamogordo today with the standing resolution is NOT a Sanctuary City for the Unborn as Mr Block and Mr Melton claim.
What it is, is a city divided as the nation is divided on the issue of abortion.
What Alamogordo is is a city that, "may prefer NOT to have any abortions performed nor abortion clinics within its boundaries" but what it is NOT today, is it is not a legally defined "Sanctuary City for the Unborn."
We reached out to the city attorney to define what that means and her response was that she has resigned and is on leave until her actual end date and that our question concerning a true definition of "Sanctuary City for the Unborn" asks for a legal opinion which could put the city in a compromised position. 
Given there are rumors of recall conversations within the ranks of Alamogordo's citizens. We asked what provisions were in the city charter when it came to recalling an appointed representative and we asked for a definition of "Sanctuary City for the Unborn" and rather it carried any legal weight.
Her response, "Unfortunately your questions pose the need for a legal opinion, and I cannot provide you one at this point as my job is to provide legal opinions to the City – its officials and representatives…"
And in further communications…
"I am still the legal representation through the City, but am on leave. We always have other representation via the Municipal League as well.
Again, I cannot answer your questions. Best of luck,
*Please note I have resigned my position as of August 26, 2022. Please contact City Manager Brian Cesar atBCesar@ci.alamogordo.nm.us or Paralegal Stephanie Brusuelas at SBrusuelas@ci.alamogordo.nm.us if you require assistance after that date.*
Petria Pennington
(fka Petria Bengoechea)
City Attorney"
Thus this whole uproar appears to be over an opinion piece, not a document with any basis of law. That face seems to  that make counsel for the city uncomfortable from a legal standpoint when asked to place the resolution in context to law.
Alamogordo is a city divided that needs professionalism from its leaders and for them to be focused on crime reduction, jobs growth and prosperity.
What Alamogordo is NOT is a "Sanctuary City for the Unborn," no matter how loud Mr Block and Mr Melton want to scream it. It may desire to be but at present IT IS NOT!