AlamogordoTownNews.com Andrea Dante and Dustin Justus Exhibition Opens at Otero ArtSpace Friday
Image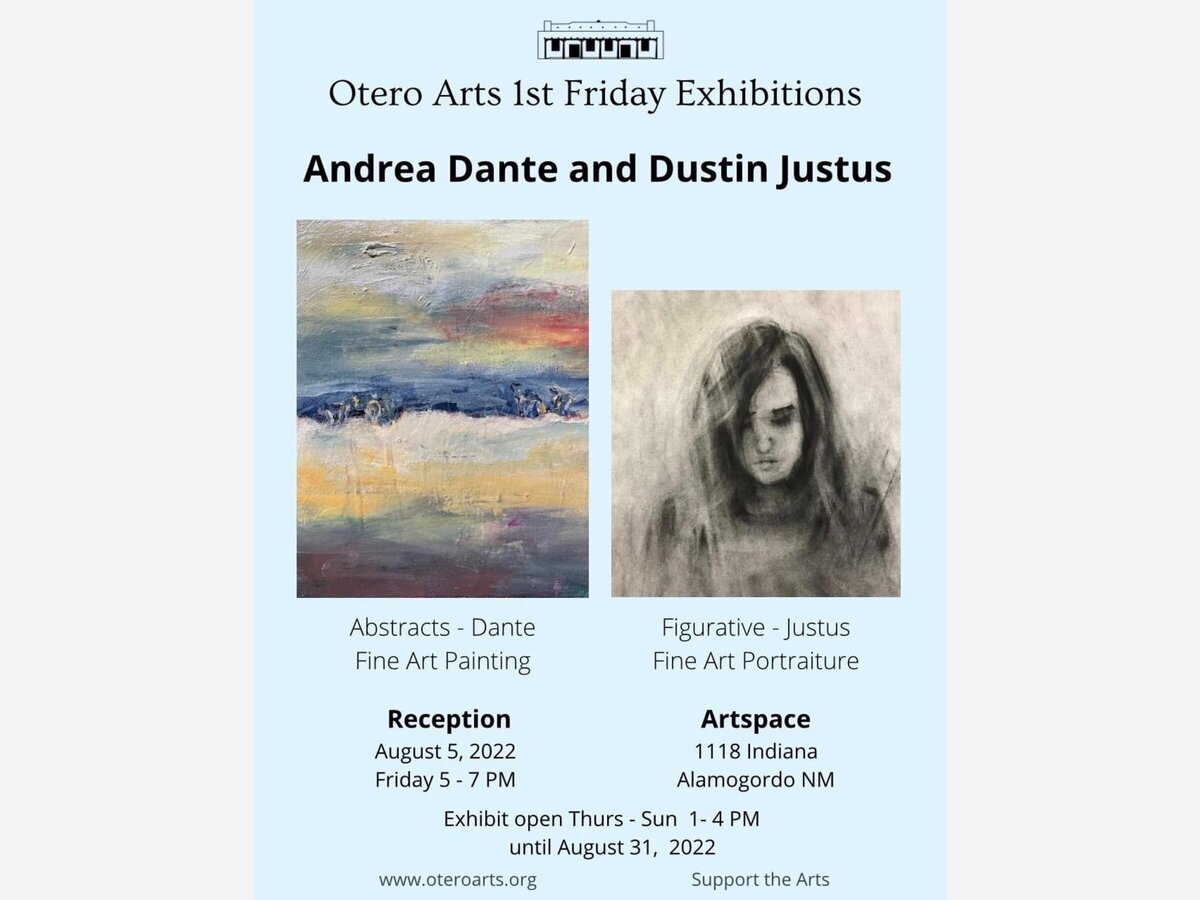 Otero Arts presents fine art abstracts by Andrea Dante and Portraiture, Figurative works by Dustin Justice for the month of August, 2022. 
The Artists' reception will be on Friday, August 5 from 5 to 7 PM. at Otero Artspace, 1118 Indiana Avenue (12th and Indiana), 
Come and enjoy the arts scene in the Alamogordo Cultural Arts District
Andrea Dante bio:
My  initial objective when creating artwork is not to achieve beauty, it is to explore a personalstory through the creative process. The story is hidden within the surface by the use of line,texture, color, movement, repetition, and expression. Once the story or memory feels complete, Iwork to resolve the aesthetics depending of the energy of the work. Not all stories are meant tobe beautiful, but there can be beauty found in both the darkness and the grotesque. My artwork often evolves from both experiences and memories merged with present inner emotional expression.
Horses are the predominate subject of my work. These equestrian images often become anthropomorphic. They are frequently combined with inventive botanical fields and landscapes. The body of my artwork consists primarily of drawings and paintings. My artwork initiates from personal photographs. My photographs are regularly taken while exploring, primarily the Southwest. Horseback riding, hiking, and occasional road trips help to initiate my creative process. My initial focus when taking photographs is the composition, looking for a strong focal point, contrast, repetition and balance.
Using one, or the combination of my photographs as a starting point, I begin a drawing. My drawings are constructed by the repeated layering of gesso, charcoal, and India ink. This process many times will stir up memories and feelings as they come to the surface through the process.
Many of my paintings, either acrylic or oil evolve from my charcoal sketches. They are often created by the combination of the experimentation of materials, and from spiritual reflection. The result of repeated layering, and removal of paint from the surface until the desired result is achieved.
I prefer to work on large surfaces. This helps me to fully engage my energy into my work. The majority of my paintings are on hand stretched canvases, some as large as 84" x 96".
My goal is to be able to continue this process of self-exploration through the creation of art. Merging the experimentation of materials with emotion and memory.
Bio of Dustin Justus
Dustin Justus was born and raised in Ruidoso NM. Having been gifted with creative talents from an early age. Illustrating his first published children's book at age 10 and awarded several local art competitions as well. Dustin attended with full scholarship as well as the Jean Dodier art scholarship award and received his Bachelor's of Fine Arts from NMSU. He now resides in Ruidoso with his wife and son, pursuant on his talents of the human figure.
Artist Statement
"The human form has been my greatest inspiration, specifically with live model drawing. Capturing a moment and energy from the experience to create a narrative. There is no greater thing in my creativity than from drawing and painting the human form. It connects the artist and viewer with the history of humanity and defines who we are today, where we have come from, and where we are going. As Kurt Vonnegut has opened with and concluded in "Slaughterhouse Five" …so it goes."
The exhibition runs the whole month of August and is open for free public viewing.