December 4th 4 to 9 pm New York Avenue Christmas Festival
Image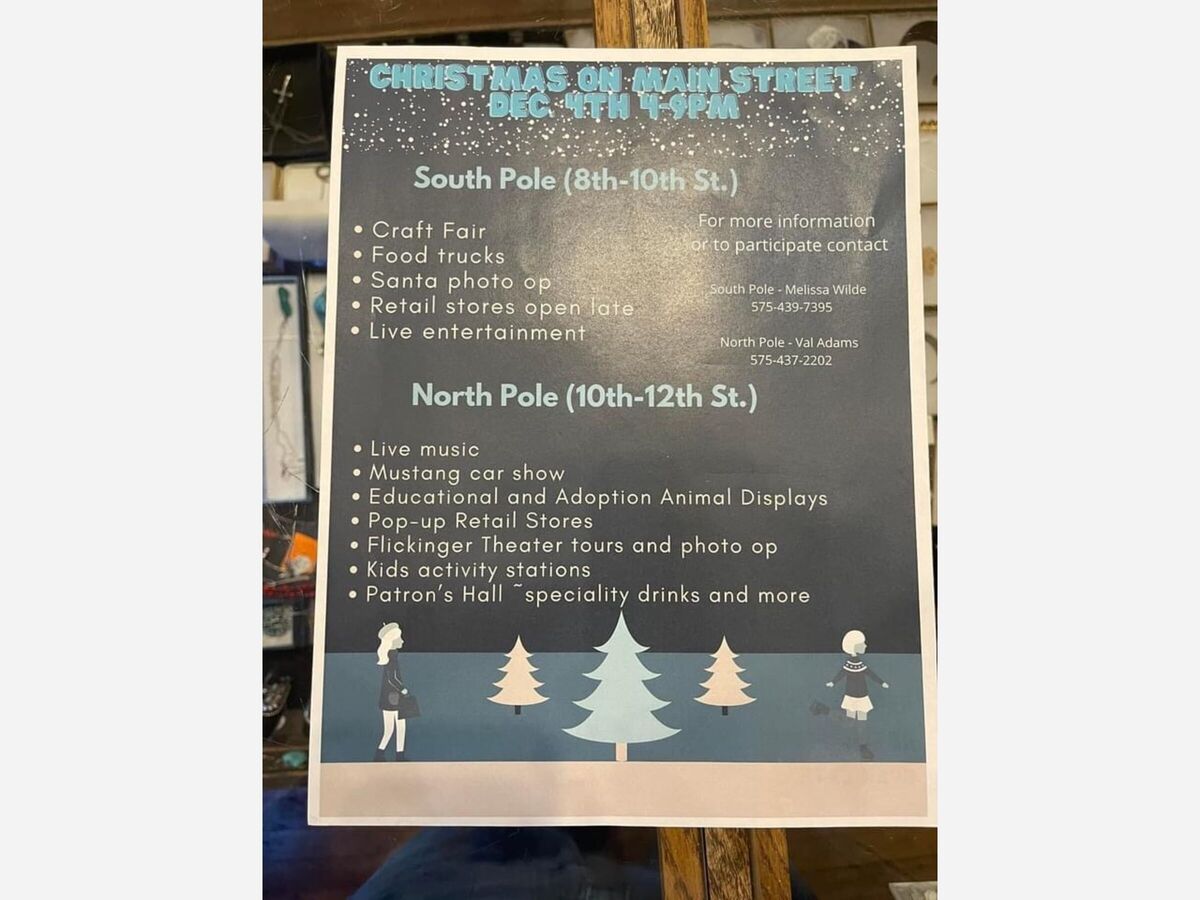 Thank you to the wonderful staff of Flickinger Center for Performing Arts, Valerie Adam's, for putting together this wonderful flyer and map explaining the Christmas on Main Street event planned for December 4th 4 to 9 pm.
The streets from 8th to 12th on New York Ave will be closed for a night of shopping, entertainment, food, crafts and more.
Roadrunner Emporium will be hosting Josette Herrell, BJ Oquist, and Diane Sill for a children's book signing. Homespun yarn demonstrations by Linda Swenson, live music by Don Thorp and several of our artisans will be onsite to answer questions and demonstrate their skills.
And oh yes, our Festival of Trees where you can take home one of our beautiful tabletop trees the best part is the purchase goes to fund a donation to three local non-profit beneficiaries from Roadrunner Emporium the week of Christmas.
This Christmas we are supporting COPE, the Otero Hunger Coalition and Otero Arts Inc. each will receive a check of at least $500.00 from Roadrunner Emporium's charitable gifting commitment.
This December 4th Support Flickinger Center, Patron's Hall, Copper Heron Gallery and more to the North and then proceed south on New York and pop in to Roadrunner Emporium, Victoria 913, The Local Bodega, Mia's Collectibles and more. Saturday December 4th 4 pm to 9 pm. Come join the joy of the holidays on New York Avenue….
#NewYorkAvenueAliveAfter5 #alamogordocenterofcommerce #RoadrunnerEmporium #exclusivelyalamogordo #alamogordomainstreet #shoplocalbusiness #AlamogordoArts #flickinger #copperheron #flickingercenter