BRICK-AND-MORTAR ANTIQUES RETAILERS ADJUST TO A NEW NORMAL Guest Story by: William Flood
Image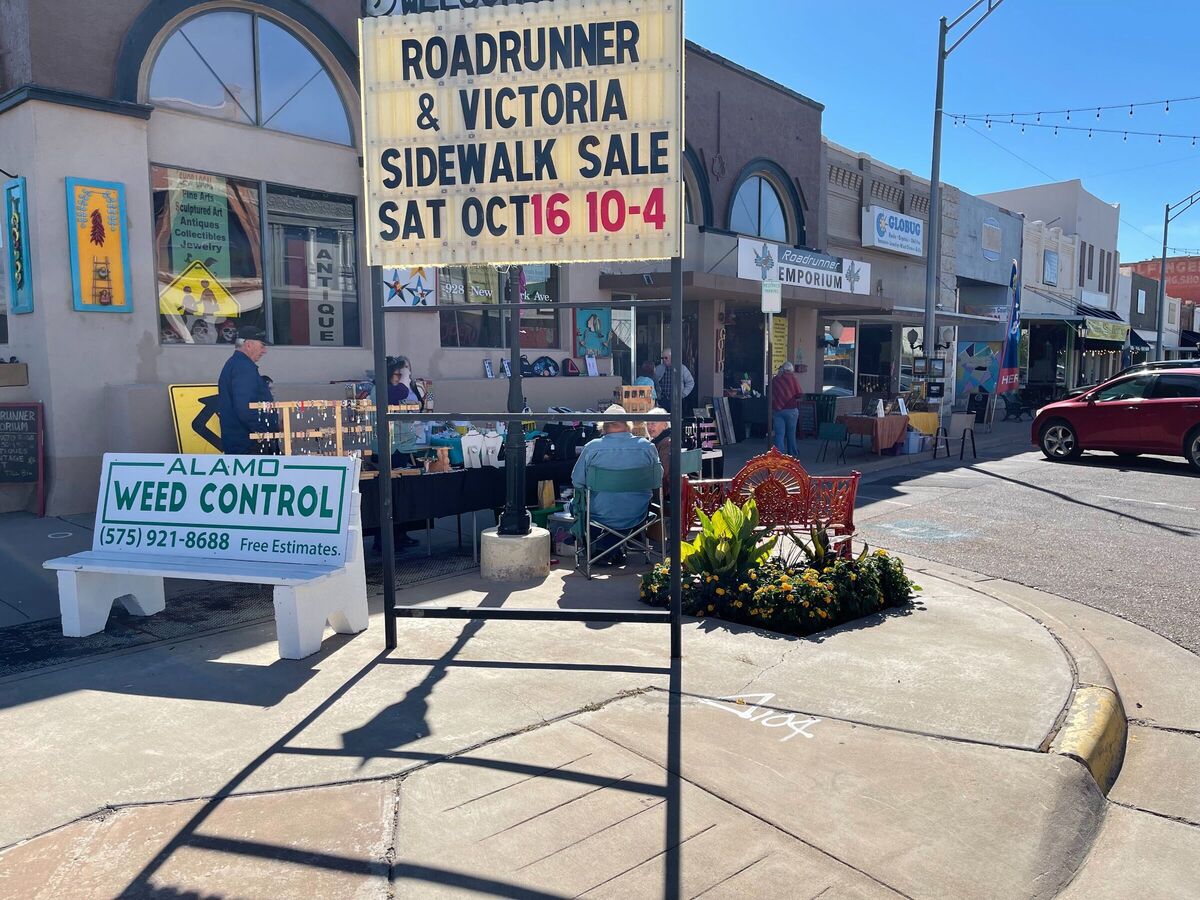 A year and a half after COVID-19 led to months of business closures, the antiques marketplace is still unsteady. Brick-and-mortar retailers, like most businesses, have reopened, yet not under ideal conditions. Antiques retailers still find themselves mired in ever-changing pandemic protocols and a retail landscape that continually requires course corrections.
WHEN THE STORM HIT
Understanding the situation of antiques retailers in the fourth quarter of 2021 requires a peek back at 2020 when businesses began to reopen. Then, stores of all types tried their best to implement safety protocols for their patrons and staff. As a result, store owners found themselves in unfamiliar waters. They dealt with challenges like deep cleaning, marking floors for social distancing, hanging signs regarding masking, and even crafting vapor barriers at cashier stations.
To illustrate the situation, consider Boomerang Vintage in Columbus, Ohio. Despite three months of closure, when Ohio reopened for business in May of 2020, owner John Dilgard decided to take an extra week to open. He used the time to clean the building and the merchandise. Then, once open, he and his staff donned personal protective equipment, placed sanitizer throughout the store, and asked customers to wear masks. Initially, Dilgard limited his store capacity to 12 customers. He even contemplated setting up an area where customers could wrap and bag their purchases.
Similarly, Jacob Wankansky at the Old Chapel Antiques and Artisan Market in Tonawanda, New York, postponed opening to complete the installation of Plexiglas guards at the cashier area. He also set up sanitizer stations and provided his vendors a week to clean and restock.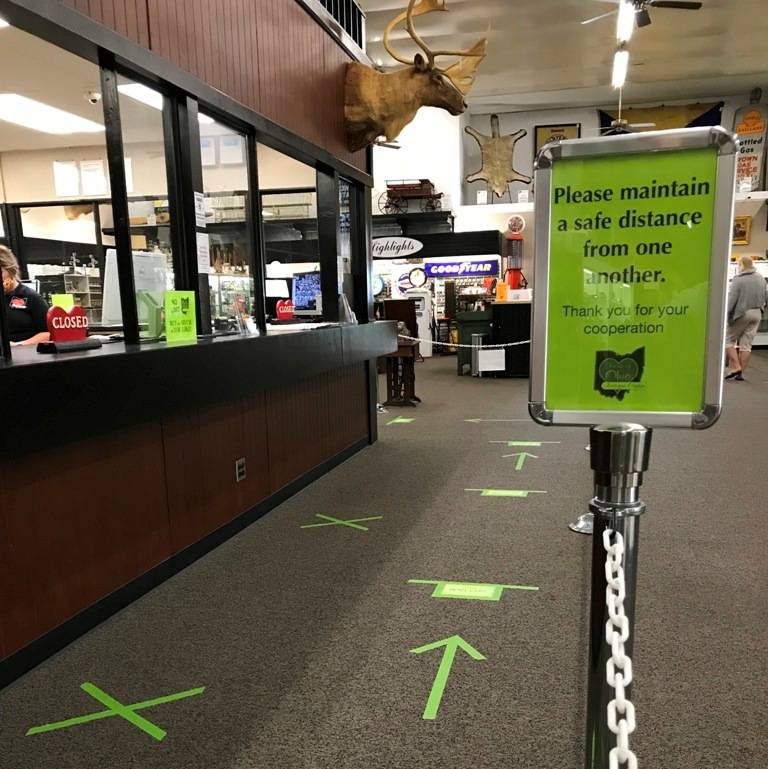 A SALES SURGE APPEARED
Blame it on cabin fever, but when antiques stores finally opened around May of 2020, there was a noticeable swell in both volume of shoppers and sales. There was clearly a pent-up desire in people to get out and shop. Karen Barber, COO of the large Heart of Ohio Antiques Mall, called it "crazy busy," adding, "They seem to be arriving with a mindset to buy." Echoing those sentiments, Beth Leisure at the National Road Antiques Mall in Cambridge City, Indiana, said, "Traffic since reopening has been amazing." Informal interviews with dealers in multiple states pointed to as much as a 40% increase in sales year-over-year compared to 2019. Many made a year's worth of sales in the nine months after reopening.
SAFETY MEASURES EVENTUALLY BECAME PART OF THE VISTA
Safeguards like those Dilgard and Wankansky instituted are still in place. Still, in the year and a half since businesses reopened, the precautions have become passive—part of the backdrop at brick-and-mortar antiques locations countrywide. Hand sanitizer remains readily available (but seldom used). Tape still marks the floor for distancing. At the same time, people stand shoulder to shoulder, and Plexiglass shields are still in place.
SWELLS RETURNED WITH THE DELTA VARIANT
Just as patrons got comfortable enough with safeguards to overlook them, the Delta variant reared its head. Yes, a good portion of the country got vaccinated. Still, Delta proved resilient, bringing with it increased infection rates and some states returning to mandatory masking. Among the states that returned to statewide masking were Illinois, Oregon, and Louisiana. The masking situation was further complicated by local masking requirements like those in Franklin County, Ohio, and Salem, North Carolina, states without statewide orders.
Re-imposed masking seemed to take its toll on shoppers and took the wind out of many stores' sails. At Lost in Time Antiques in Winston-Salem, North Carolina, associate Kendra Miller spoke of her town's mask mandate, claiming, "People are tired of it. They're burned out."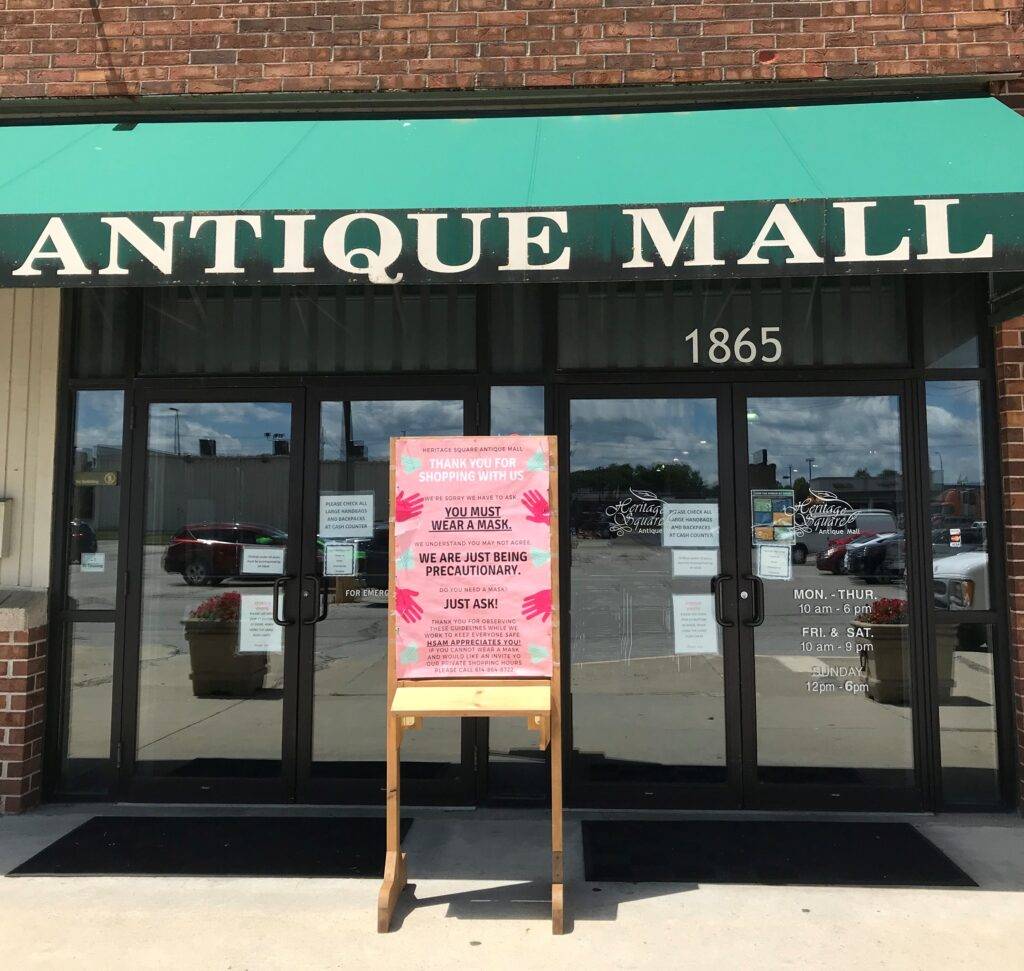 THE SURGE RECEDED, BUT THE TIDE IS STILL HIGH
Heading into late 2021, antiques retailers report a consistent story regarding sales. While the initial upsurge in 2020 appears to have ended and business has calmed, sales are still up from 2019 levels. Cursory interviews with several dealers indicate about a 15% year-over-year rise from 2019. The Vintage Workhorsein West Virginia is indicative. Owners Jason and Theresa Laster recounted, "After COVID, we couldn't keep up. It was definitely a surge, but now it's tapering off a bit." Shellie Schwartz of Betsey's Boutique Shopin Rockford, OH, concurs. "There's a leveling off," she noted; yet, she also acknowledged, "People are still coming out and still buying. They're enjoying being able to buy."
While things may have settled a bit for many antiques shops, not everyone is experiencing the drop. At Hoosier Sister in Carmel, Indiana, owners Gretchen Harter and Heidi Heldt optimistically say buyers are still "Hungry to get out buying." Their in-store design seminars are part of the draw. "Sometimes," the two say, they "are "selling out within hours."
ANTIQUES RETAILERS LEARNED TO NAVIGATE VIRTUAL WATERS
During the months of lockdown, countless antiques shop owners tried to stay the course and wait out the pandemic. Unfortunately, some of these closed for good. On the other hand, those who embraced modern technology—selling on eBay, listing on Facebook Marketplace, or just keeping fans in the loop via social media—tended to weather the storm.
Consider Heritage Square Antiques Mall in Columbus, Ohio. Management used creative marketing approaches during the lockdown, including hosting "virtual shopping" events using Facebook live. Keith Graber Miller at Goshen, Indiana's Found said of those months, "Facebook [was] immensely helpful. Our online presence spurred inquiries and orders from five states." Back at Betsey's Boutique Shop, Shellie Schwartz noted, "We were closed for three months, but online was crazy."
VIRTUAL WATERS BECAME PERMANENT FOR MANY ANTIQUES RETAILERS
Those virtual marketing and sales efforts are still helping keep the doors open for many brick-and-mortar antiques stores. Old Fort Antiques Mall in Wytheville, Virginia, exemplified that on an October 2021 Friday. Even for a mall that sees up to 100,000 cars pass by its doors each day, two dozen boxes strapped with eBay packing tape awaited shipment.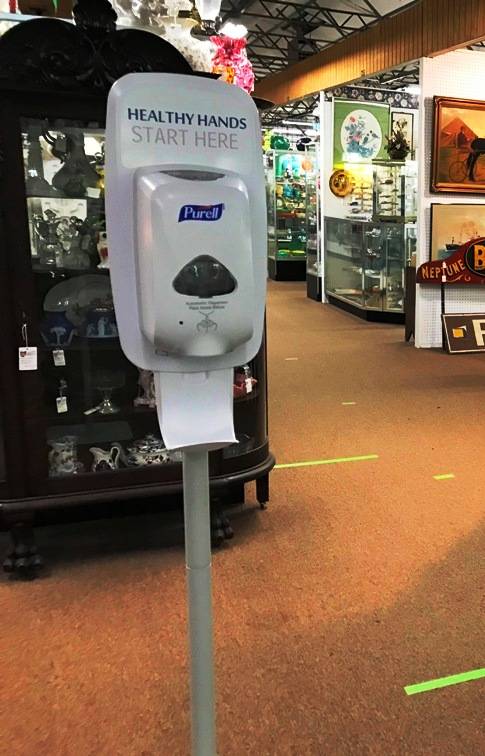 CUSTOMER FLOW CHANGED
While online sales helped the antiques industry weather the pandemic, the increased walk-in traffic at antiques stores nationwide has not gone unnoticed. Despite the perception that everything is moving online, people were (and remain) grateful to get out. Colleen Richardson, the owner of Arcade Junction in Arcade, New York, points to the demand spawned in 2020: "There was a sense of excitement. Shoppers were elated to shop somewhere beside big box stores or online."
That intense desire to get out included a group not typically associated with in-person shopping—the under-30 crowd. Millennials and younger, the demographic considered the least likely to prefer in-store shopping, unexpectedly started showing up at shop doorsteps. Evidently, when it comes to antiques and vintage items, the virtual generation seems to favor the joys of face-to-face shopping and holding unique objects in their hands. Skip Wakefield at Lost in Time Antiques noted, "A full 50% of my customers are under 30. They are discovering what offline shopping feels like." He added, "They are sharp on the subject matter and are looking for premium stuff."
That "stuff" apparently includes items from the 80s and 90s, a new era of merchandise for many antiques retailers. Combine that trend with the need to continue online marketing efforts and operate in some fashion with the "new normal." The winds of change are still blowing for antiques retailers.
William Flood is a mid-century antiques dealer and writer specializing in twentieth-century commercial culture. He writes for numerous antique and collectibles publications on subjects like roadside architecture, 1950s modernism, and even vintage tiki culture. He is the author of two Ohio local history guides. When not writing, you might find him enjoying a small-town Main Street or taking the great American road trip.
Note: Locally Small business antiques and collectibles dealers have also adjusted and are eager to service Alamogordo's needs this holiday season. Support local small businesses Roadrunner Emporium, Victoria 913, Copper Heron Gallery and Mia's Collectibles on New York Avenue and the Old Post on Alaska. Alamogordo Small Businesses support the Community. Shop Local!