Alamogordo Fire Department Awards Two Junior Fire Marshal Awards
Image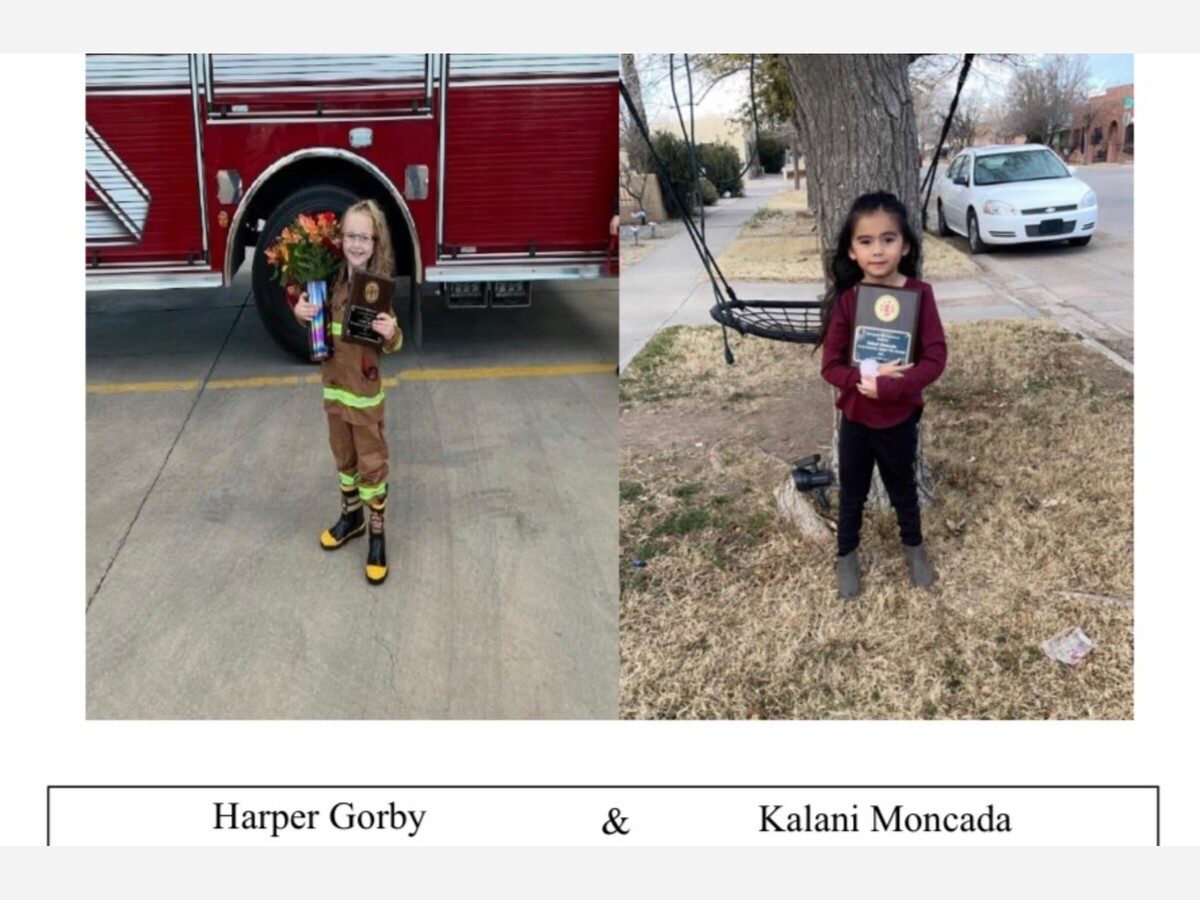 Congratulations Kalani Moncada & Harper Gorby on being named and awarded as the 2022 co-Junior Fire Marshal for the City of Alamogordo. 
According to the National Fire Protection Association, a home fire occurs in the United States every 87 seconds and children as young as 2 have been involved in accidentally setting fires. Junior Fire Marshal training is a program that many fire departments partner and support to engage youth in fire Safety. Alamogordo is a participant in this type of child learning program. 
In a press release from the the City of Alamogordo: "The City of Alamogordo is committed to ensuring the safety and security of all those living in and visiting our city. Fire is a serious public safety concern both locally and nationally, and homes are the locations where people are at greatest risk from fire.
Alamogordo Fire Department is dedicated to reducing the occurrence of home fires and home fire injuries through Prevention, Protection, and Education.

If our youth residents are responsive to public education measures and families are better able to take personal steps to increase their safety from fire, especially in their homes, the risk of home fires can be greatly reduced in our community.

Alamogordo Fire Department would like to recognize youth within our community that take an interest in Fire Prevention. These individuals deserve recognition for their dedication to Fire Prevention efforts in our community."

For 2022 the Alamogordo Fire Department had dedicated Co-Junior Fire Marshals; both recipients were equally deserving of the award.
Firefighter Izaak Lujan and Lt. William Skaggs Nominated Kalani Moncada for the reward.
In a statement per Izaak D. Lujan AFD Firefighter concerning Kalani he said; "Kalani has a passion for the fire department, and every time we're on shift, she shows up asking questions about the fire trucks, the equipment, and even just hangingout. Her presence always boosts the morale of the guys and reminds us that even a simple gesture of taking a picture of the fire truck on a rainy day can mean the world to someone. She may be a little shy at times, but she has been opening up quickly. Her dedication to learning about the fire department is admirable, and it's a no-brainer that she deserves to be one of this year's Junior Fire Marshal. Kalani's passion for the fire department is truly inspiring, and it's a pleasure to have her around."
Lt. William Skaggs said of Kalani; " Kalani is a unique young lady; she has taught us as much about overcoming fears as we have taught her about the Fire Department. She has come for multiple Station tours, cooked dinner with us at Station 1, and is always checking on us when we are out protecting our community. Watching her grow and overcome so much in the last year has humbled my entire shift. This is why I nominated her for this award. She will forever and always be part of Shift 2."
Firefighter Hunter Lucas nominated Harper Gorby:"Harper has a love for the fire service like no other child I've met. She loves to visit our fire stations and to visit her favorite fireman, myself , and my fire pup, Marshal, and she has visited at least six times in the past year. She knows what the equipment is. We have taught her about the various tools and items needed in an emergency. It impresses me how much she remembers and can correctly recall what they are called. She tells her parents that I am truly an inspiration to her and has said many times that I am her hero. Harper has two firefighter costumes that she takes everywhere she goes, and she has known ever since she was two, that she wanted to be a firefighter when she grows up and she makes sure everyone knows! At home, she has made her family have a fire escape plan and taught them what to do if they had a fire. She gets excited when she sees firefighters working in town and loves to see the fire engines because they fascinate her. Little does she know that she is just as much my hero as I am hers. It's an honor to nominate her for this award."
The City of Alamogordo, Alamogordo Fire Department and the citizens of Alamogordo congratulate both young ladies; as both are well deserving of the award.
The Alamogordo Fire Department is committed to the Junior Fire Marshal traditions moving forward with our ranks. The Alamogordo Fire Department will continue with Family fire prevention classes in 2023.
Class information is distributed through the Alamogordo Fire Dept. Facebook page, Local radio stations, and available on the AFD webpage.
"This last year we had more opportunities to interact with the youth of Alamogordo again. We have gotten back into the schools; held more Family Fire Preventions classes and we have been back out to the community events. Not only have we had more opportunity to interact with our youth, but we have also had more in involvement in the prevention side of our job from the younger generation of Firefighters here at AFD. I started this program in 2021 and hope to see it carried on way beyond the time I have left with AFD," said William Skaggs AFD Shift Lieutenant.
He continued, "Firefighters Hunter Lucas and Izaak Lujan have dedicated a lot of time with the recipients of our 2022 Junior Fire Marshals awards.Both young ladies are equally deserving and that is why it was decided to share the honor for 2022 award. To see the youth in our community being involved with and learning from AFD is amazing!As a senior member and an Officer at AFD, seeing our next generation, the guys that we influenced and trained within our ranks taking the reins on the programs we started, stepping up into these vital roles and continuing our mission statement, is the results we strive to see."
To learn more about the Alamogordo Fire Department and it's community outreach efforts and youth outreach visit their Facebook page or the City of Alamogordo website.