AlamogordoTownNews.com City Commission to Meet in Special Session to Discuss Abortion
Image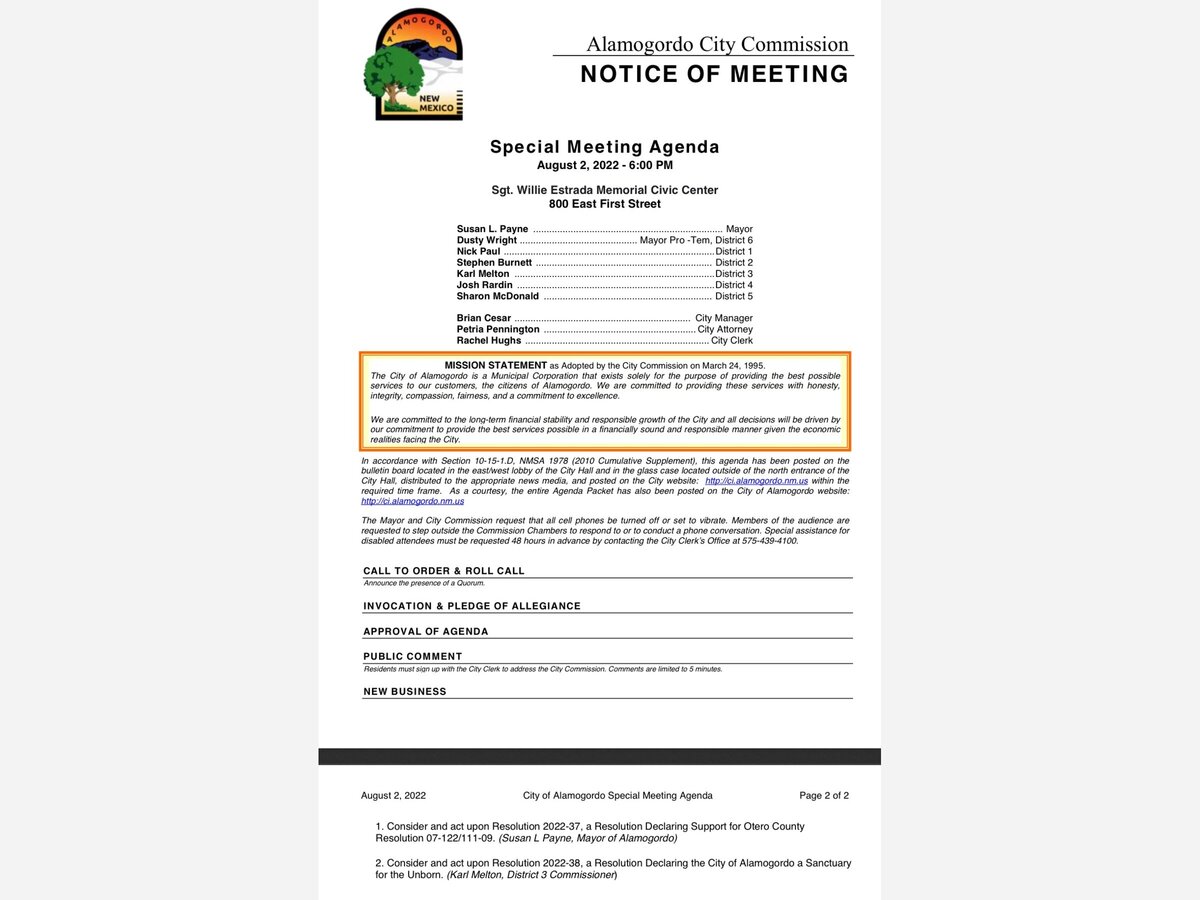 While another shooting and murder occurred in Alamogordo the city leaders of Alamogordo decided the need to have a Special Meeting to be held on Tuesday, August 2, 2022 at 6pm to discuss two potential non-binding resolutions around the topic of abortion.
While there is not an abortion clinic in Otero County nor the city of Alamogordo nor is one in discussion nor planned, and though state law prohibits county and city governments from banning the location of one within their jurisdiction the city political leaders have decided to tackle the issue in "Special Session," all the while violence and crime in the city is on the rise and no "special session" for a proclamation  and dialog on lowering crime rates. 
On July 26, 2022, at approximately 1408 hours, Officers with the Alamogordo Police Department responded to a shots fired call in the l00 block of Avenida Amigos. While in route, dispatch advised one male subject was down by a trash can.
Upon arrival, Officers located a male subject suffering from multiple gunshot wounds. Officers began life savings measures. The male subject was transported to GCRMC where he later succumbed to his injuries. Officers and Detectives made contact with another male subject and female subject within a residence. The male subject admitted to firing a round.
The 12th Judicial Major Crimes Unit assumed the investigation. All persons of interest have been located and no charges have been filed at this time. This investigation is ongoing and adds to the crime numbers and murder rates that have seen a significant increase in Alamogordo and in Otero County.
In a online social media discussion with Commissioner Melton questioning why a special session has been called for dialog around abortion clinics but no special sessions for discussion on the rise of crime his response was that a "special session may be called by two commissioners." 
The dialog continued…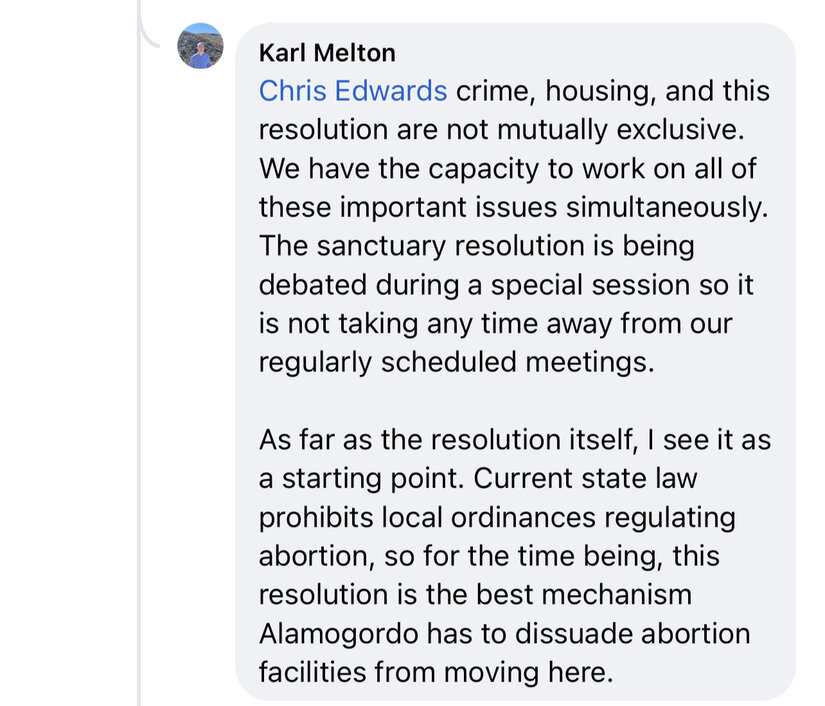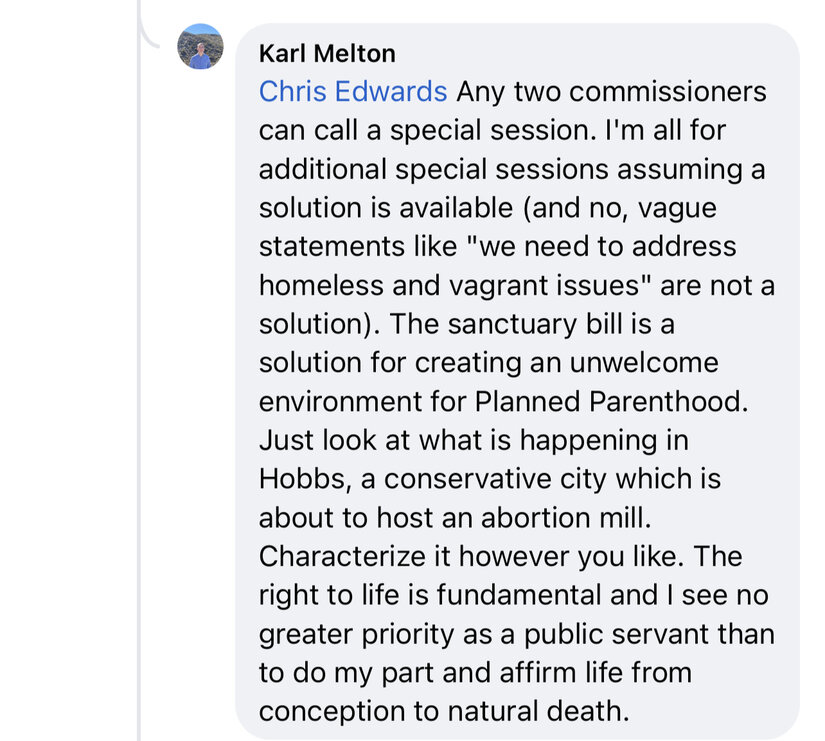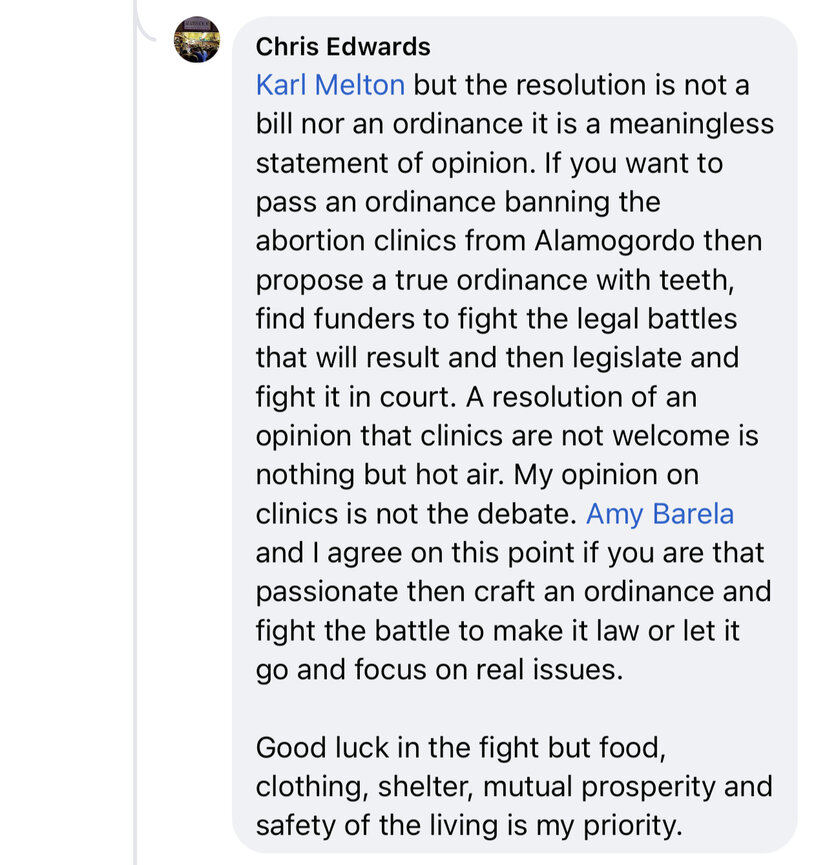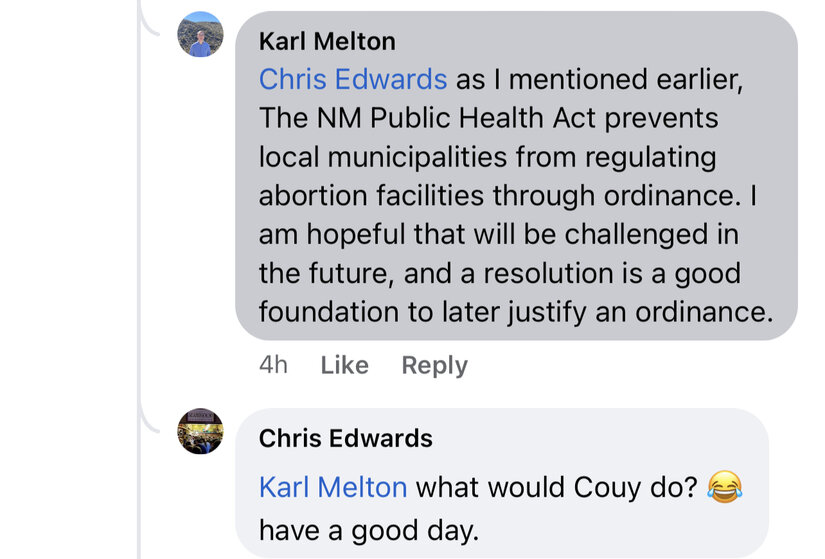 So in a nutshell Mr. Melton has proposed an "opinion piece" or a resolution that has NO legal significance since the NM Public Health Act prevents local municipalities from regulating abortion facilities.
When challenged to challenge that law, get an ordinance passed to ban abortion clinics and fight the legal battle, Commissioner Melton then hid behind the law that prevents such an ordinance thus admitting the lack of authority. However his final statement by Mr Melton is the "resolution is a good foundation to justify an ordinance."
Interesting dialog. A majority of the community probably does not want an abortion clinic thus there is not one in the community, so the whole hornets nest being stirred up is nothing but propaganda on social issues and one that is outside the lane of the legal authority of the city and county commissioners. However the dialog continues while the pressing issues of crime and jobs is not getting the major focus it deserves.
There is a special meeting be held on Tuesday, August 2, 2022 at 6pm to discuss two potential non-binding resolutions around the topic of abortion. 
There are two resolutions on the table for dialog and a vote and public comment.
A tamer resolution is proposed and sponsored by Mayor Susan Payne - again, just a resolution and no power of law. It reads…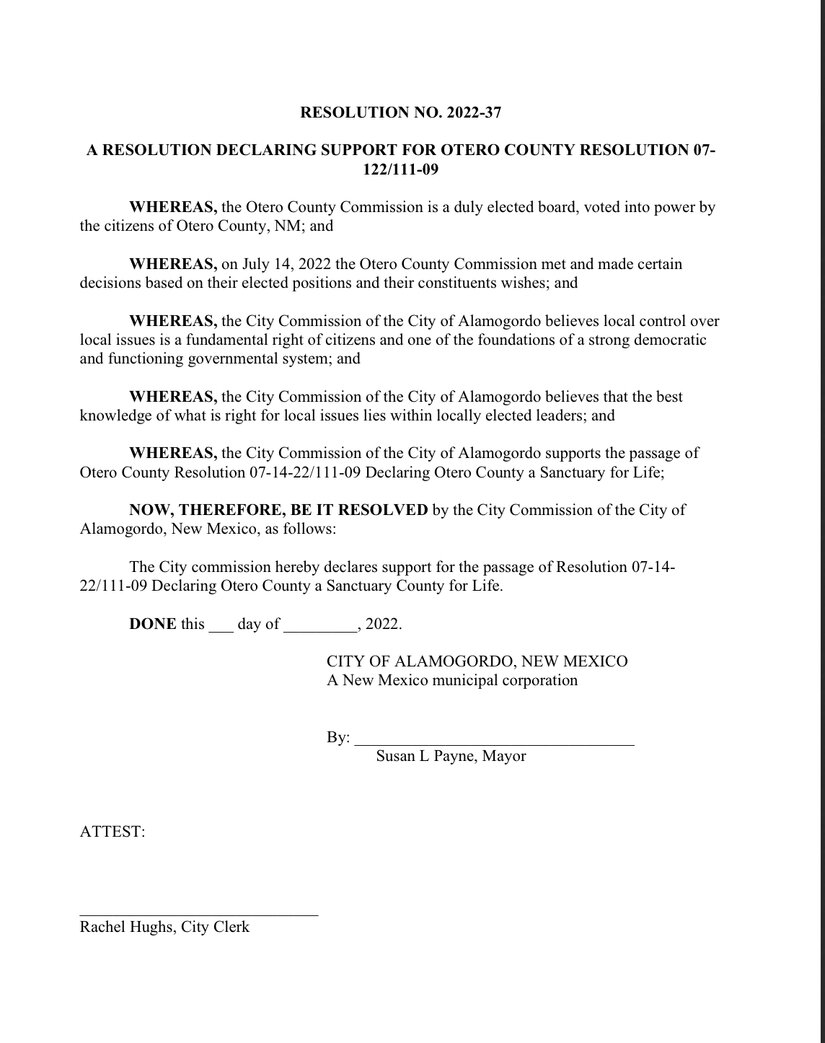 and Commissioner Meltons proposal as a resolution…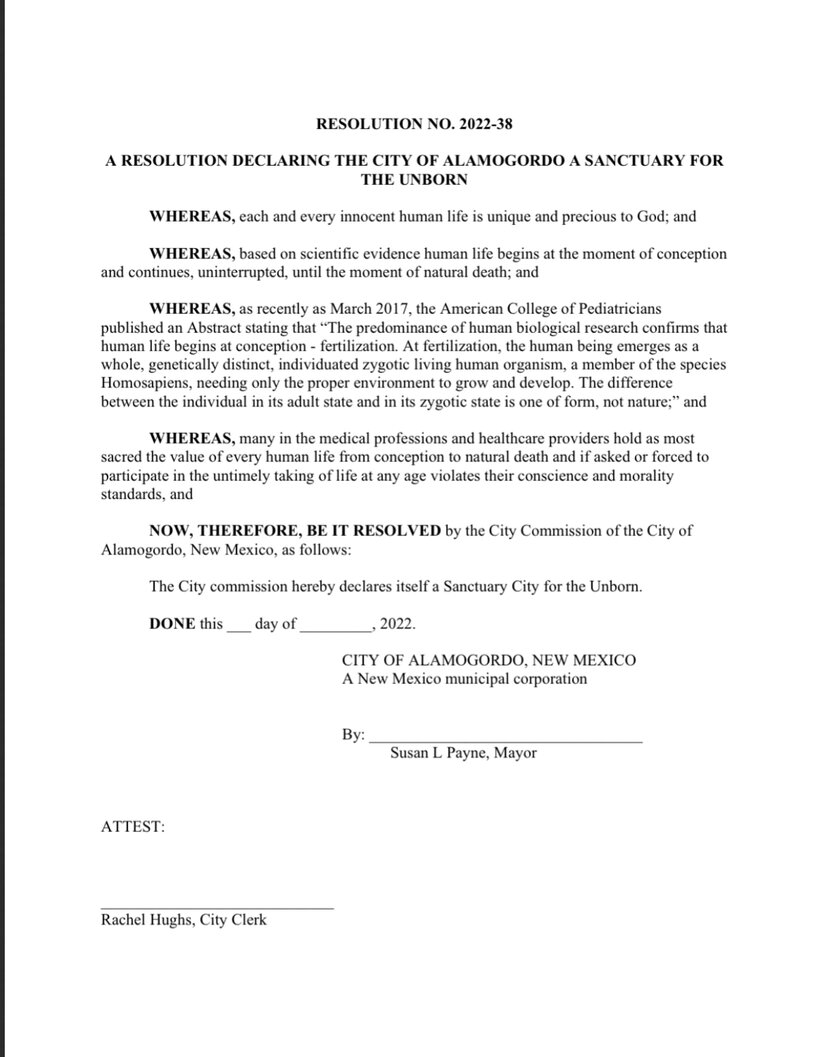 Click the following link to see the agenda and the live stream link from the city.https://alamogordonm.civicclerk.com/web/home.aspx
Activist on both side of the issue are rallying their troops to attend this "special meeting" at the Willie Estrada Center.  
John Block Republican Candidate for State District 51 (lower house) Representative and the domestic partner to seated City Commissioner Melton is posting heavily to his supporters to get out and fight this fight for the "sanctity of life."
Activist opposition to the two resolutions is also lively on the various social media platforms and in chatter. 
Those on the left and the middle encouraging solidarity and voices to be heard. Those on the hard right encouraging activist to be present and vocal.
Those in the middle as Republican moderates and Libertarians are calling on city and county leadership to drop the social policy debates and focus on crime prevention, jobs growth and an economic growth agenda.
Sadly actions such as this "special session" do nothing in the creation of law but bring state and national attention to the social agenda infighting within Otero County and are bad for business growth, investment, tourism and feed into the negative perceptions of Southern New Mexico.
Let's move on from the "social agenda" and address public safety, standard of living, and working together for an enlightened, educated and prosperous community at large.