A bit of Movie History and Collectibles Like Betty Boop
Image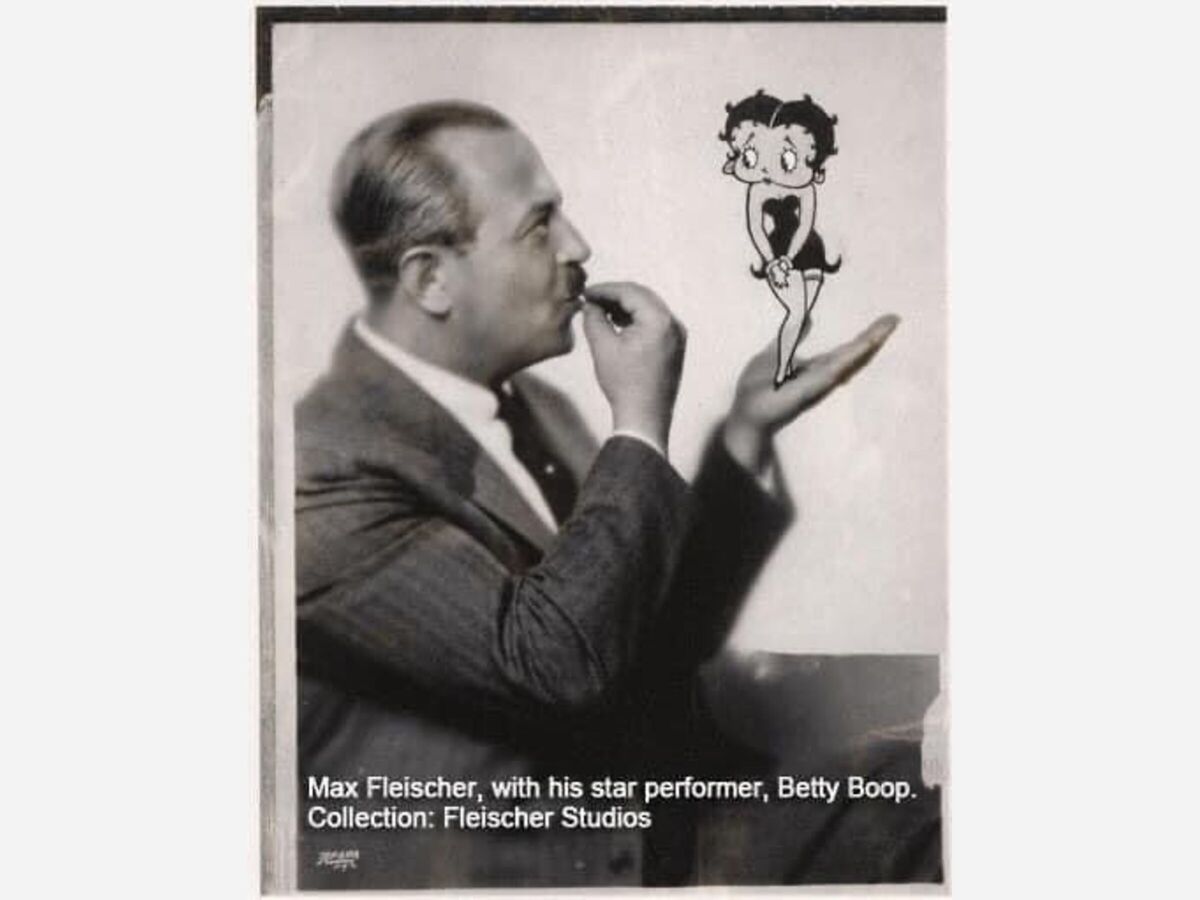 When one thinks of animation, the first name that comes to mind is Walt Disney.
But there was another man who pioneered the art form and gave Walt a run for his money in the competition for #1.
Max Fleischer and his studio produced popular, innovative cartoon shorts for 20 years. The "Out of the Inkwell" series with Koko the Clown blended live action with animation. His "Song Car-Tunes" introduced the "follow the bouncing ball" gimmick.
And, in the 1930s, the Fleischer Studio produced two cartoon superstars: Betty Boop (pictured, with Fleischer) and Popeye. 
Fleischer's cartoons were racier, darker, and more surreal than Disney's; Betty and Popeye were to animation what Mae West and Jimmy Cagney were to live films. But Fleischer had a run of bad luck.
The Production Code insisted on lowering Betty's hemlines and raising her necklines, hurting her box office.
Then Disney released the first feature-length cartoon, SNOW WHITE, a phenomenal success, followed by 1940's PINOCCHIO.
Fleischer countered with two features of his own: 1939's GULLIVER'S TRAVELS and 1941's MR. BUG (a/k/a HOPPITY) GOES TO TOWN.
Although not without their own charms, both were critical and financial failures. Despite the success of another series of shorts starring Superman, the feature flops led to Fleischer losing his studio.
But, thanks to television, Betty and Popeye continue to delight new generations. So much so that those in the collectibles market highly prize Betty Boop items.
Betty Boop Figurines - Beautiful Art and Valuable Investment
Collectibles have long been a popular pursuit for fans of television shows, cartoons, movies and comic strips. Collecting memorabilia from these forms of entertainment makes for a fun, exciting and frequently profitable pastime for many fans.
Even once the obsession or fascination with a particular show or character passes, a collection can often be sold off to fund the latest intrigue or to provide some extra and much needed cash. In this article we'll explore this phenomenon with a stocking clad sex symbol who has been with us since he 1930's.
Background Of The Sultry Songstress
Ever since she first appeared on movie screens on August 9, 1930, the diminutive Betty stole the hearts of fans worldwide. Created by animator Myron "Grim" Natwick, her popularity has endured now for over 80 years, and it is clear that she has become and will remain an enduring icon and sex symbol for a long time to come.
Combining the best qualities of two 1920's icons - screen siren Clara Bow and sultry singer Helen Kane - Betty won fans through her rare combination of outrageous sex appeal and a sincerely huge heart.
Her popularity crossed over from the big screen to the homes and hearths of collectors everywhere as fans clamored for a chance to take Betty home with them in the form of a wide range of Betty Boop merchandise.
One of the most collectible categories of these products is Betty Boop Figurines.
Why Are Betty Boop Figurines So Popular?
While many forms of Betty Boop Memorabilia have proved worthy of collecting, including plates, mouse pads, signs, music boxes and cookie jars, one of the most enduring incarnations is the Betty Boop Figurine.
Our guess is that figurines have gained so much in popularity and collectability because they present Betty in all of her three dimensional glory.
Rare Figurines date back to the 1930's when Betty was at the height of her popularity. Committed collectors search far and wide for these rarities which can be very hard to find.
While these almost century old figurines can bring a dear price for those who find and deal in them, Betty Boop statues can be enjoyed by collectors of much more modest means, making Betty within reach of any collector's budget.
This affordability combined with Betty's natural appeal have made her one of the most popular collectibles with a rabid and avid fan base.
Where Can You Find Betty Boop Figurines?
It's not hard to find these figurines. They abound online, at Amazon, eBay and myriad specialty shops. You can also usually find these collectibles in vintage and curio shops such as Roadrunner Emporium and thrift stores in the area on occasion.
They are generally affordably priced commonly ranging from $15 on the low end to $40 or more on the high end.
There are also a few "special edition" collectibles available such as the "Calendar Girl" series. Special editions are typically all are hand brush painted, with certificates of authenticity.
Determining the Value Of Your Betty Boop Figurines - How Much Are They Worth?
While value is in the eye of the purchaser and ultimately any collectible is worth whatever a willing buyer will pay a willing seller in an arms-length transaction, emotion inevitably comes into play whenever passionate collectors are involved.
To get a thumbnail idea of what your figures are worth, the easiest and quickest way is to just login to your eBay account and do a "completed items" search for Betty Boop figurines.
This will show you what real people have paid in real life transactions buying and selling these collectibles. Be sure to check the listings though because authentic vintage Betty statuettes will go for significantly more if you sell them through a collector's channel as opposed to an eBay auction.
So, use the eBay search results as a guide, but not as a bible for values. Remember, all you have to do is find someone who is looking for the figurine that you have and you'll get a much better price.
An '80s Revival
Betty enjoyed a resurgence of popularity in the 1980s, becoming ubiquitous on bags, belts, t-shirts, belts, towels, key chains, blankets and especially in art prints.
This resurgence was most likely a result of Betty's appearance in three movies that decade, including the wildly successful "Who Framed Roger Rabbit" (1988), as well as "The Romance of Betty Boop" (1984), and "The Betty Boop Movie Mystery" (1989).
Light-Hearted Collectibles To Brighten Your Days
If you enjoy Betty Boop, and how could you not, then take a look at her figurines and other memorabilia and capture some of the innocent naughtiness and nostalgia she represents.
More News from Alamogordo