One Week Till Recall Signing Over & facing two misdemeanor charges Couy Not Happy
Image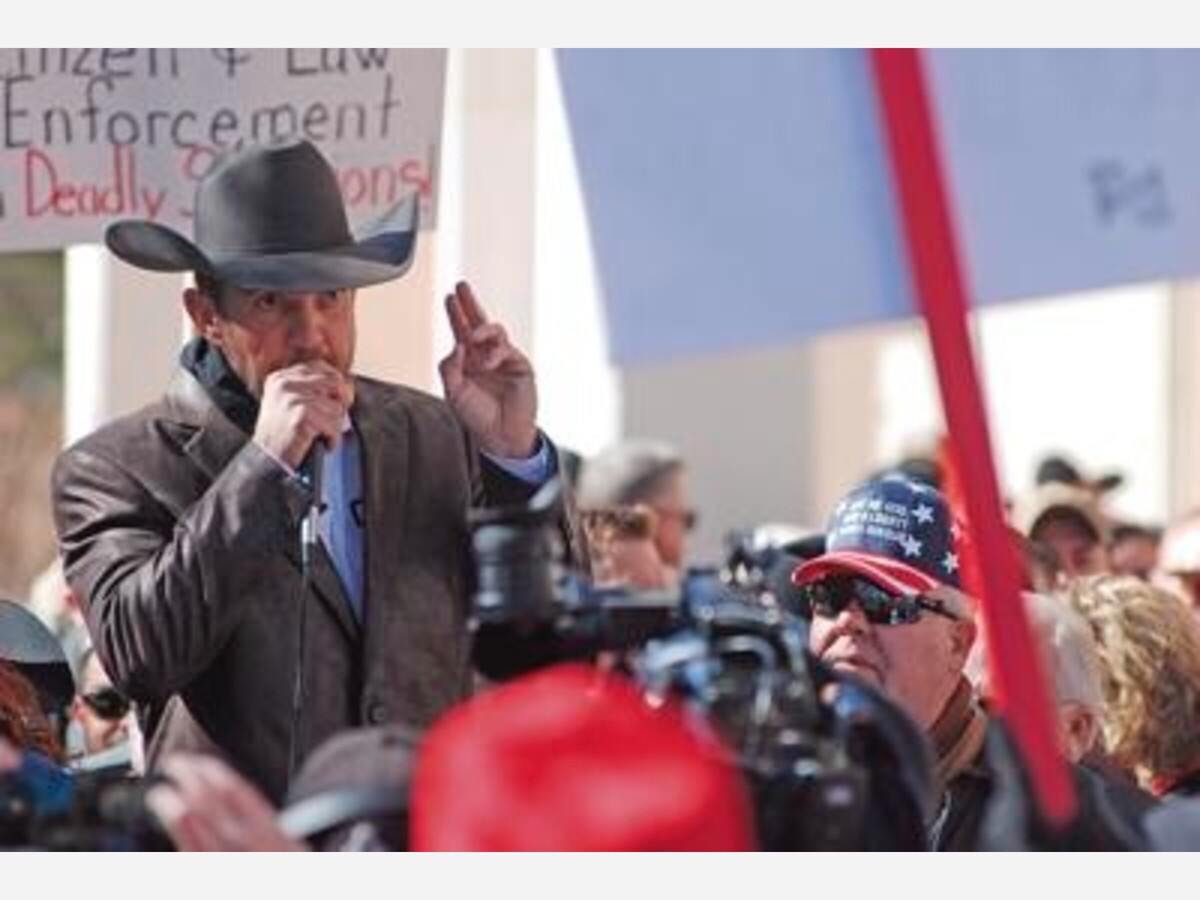 Couy Griffin, the founder of "Cowboys for Trump" who is facing two misdemeanor charges for breaking into the United States Capitol on January 6th, is not happy that he won't go on trial until next year.
Yet he appears emboldened that he will more than likely win against the Committee to Recall Couy Griffin. He has taken the offensive recently and is going to a fundraiser and rally in Montana where he is the central speaker.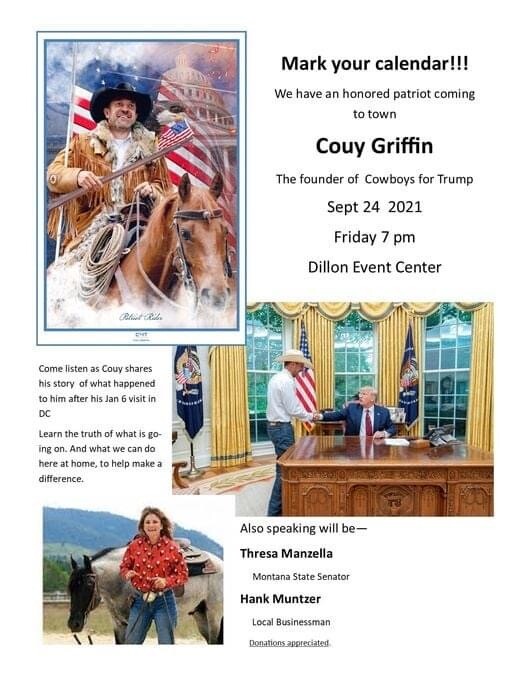 He is required to disclose travel per the terms of his release on Federal charges. One would have to petition the court to see if he filed a request to travel to this and other events…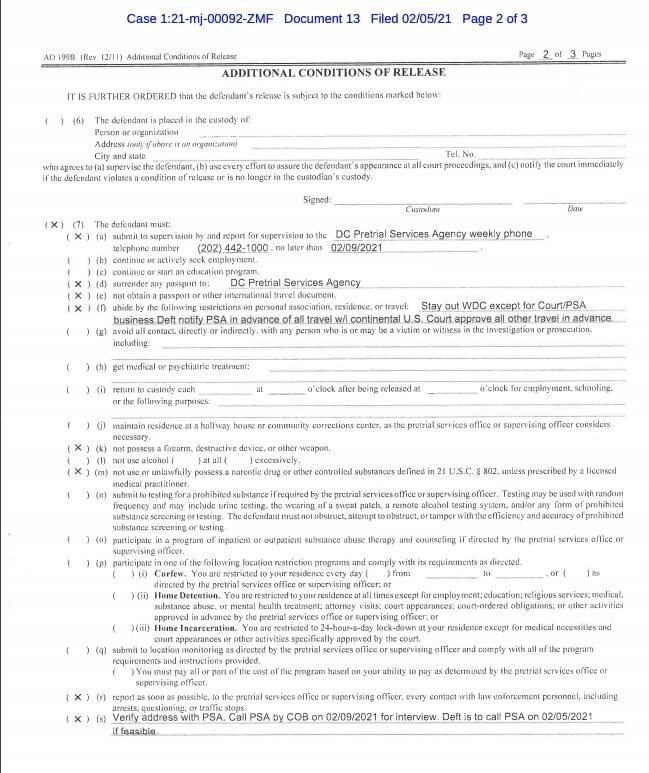 At a Justice Department arranged status hearing in 9/20/21 he whined as Politico reports that U.S. District Court Judge Trevor McFadden on Monday set Griffin's trial date for March 2022, which Griffin said was far "too long of a wait."
"I did nothing, I didn't fight with anybody," Griffin complained upon learning the date. "My life's been turned upside down... I'm being punished every day I don't have a trial."
The judge said he was empathetic with Griffin, but he said that the flood of MAGA riot cases clogging up the court systems meant he would have to wait.
Earlier this year, Griffin tried to argue that his case should be dismissed on the ground that he was supposedly being prosecuted for his political beliefs.
The Trump-appointed McFadden shot down those arguments and ruled that Griffin "comes up short on providing the 'clear evidence' required" to prove that he was being selectively prosecuted due to his political views.
Couy rallied recently in protest outside Holloman against Afghanistan refugees being hosted in New Mexico He continues fundraising and profiting from the story around the insurrection with a website created by reported Proud Boy Ben Bergquam raising $41k to date.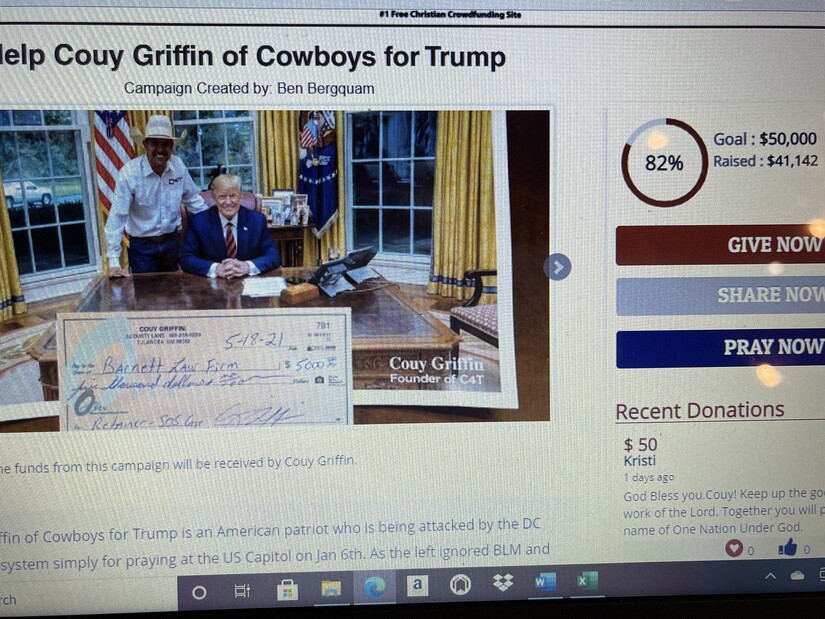 Per the Fresno Bee -  Fresno City Councilmember Miguel Arias has branded the group he confronted outside his home Tuesday "a racist hate group" in a statement released one day after the incident.
In the statement sent to the Fresno Bee Miguel Arias said the safety of his home was violated by out-of-town individuals led by Sanger resident Ben Bergquam.
Arias described Berquam as a member of the Proud Boys, "which the Southern Poverty Law Center classifies as a racist hate group.
"Bergquam and his companions bypassed security to reach my private condominium residence unannounced. A short video that that released of the incident only depicts a small fraction of a much longer incident. Indeed, the entire initial sequence of events, including the group members' attempts to force their way into my residence, is not depicted at all.
I asked him to leave my home, emphasizing my kids were home and that I would not allow them to be placed in danger. I took precautions to ensure the safety of my family and protect them from individuals known to be armed and dangerous.
Fresno City Councilmember Miguel Arias
The company one keeps can lead to further questions or debate on the judgement of our political leadership within Otero County.
We asked Mr Griffin about his association with Ben Bergquam and he provided the following statement…
"I've known Ben for years and he is one of those that I respect the most in this movement. Not only do I know Ben on a personal level but I also know Ben on a Spiritual level. I have had deep Spiritual talks with Ben and have prayed with Ben. And I truly feel like Ben is a man I could trust.

Ben started this fundraising platform because he knows and understands how financially burdensome this has been. Politics has pretty much become my life but unlike many others I only make about $23k a year.

So Ben started this fund to not only help me personally but also to help me continue to travel and to speak.

This fund has helped with my attorney fees as well as paying my expenses to travel and attend speaking events. It even helped to buy a couple pairs of new jeans the other day.
I am extremely grateful for the help. I will be pulling my trailer and hauling my horse to Montana this next week to speak at an event. And in no way could it be possible without the generous financial support of so many who have given!

If anyone who reads this and financially wants to support this cause and my efforts to fight against tyranny can go to
https://www.givesendgo.com/CouyGriffin
and contribute how they are led. We are in a fight and it will take strong support to get thru this!
God Bless,
Couy Griffin

The original founder of the Committee to Recall Couy Griffin posted the details of their case via the link 
https://onedrive.live.com/?authkey=%21AMLg%5FYGB%5FrhVqGg&id=A81A98BE1959ACE%21318657&cid=0A81A98BE1959ACE

Updates from the Committee on their final weeks efforts can be found at
https://www.facebook.com/RecallCouy/
Rather one supports Couy Griffin or despises Couy Griffin everyone can agree he certainly garners attention. The bigger question we should all ask is he bringing value to Otero County in his role as Commissioner?
With a municipal election around the corner for Alamogordo and the selection of mayor and city commissioners questions should be posed as to where they stand in relation to the actions and behaviors of Mr Griffin or is he the model for Otero County's future?
Soon we will see…