AlamogordoTownNews.com Crime Prevention Discussion Hosted by Roadrunner Emporium
Image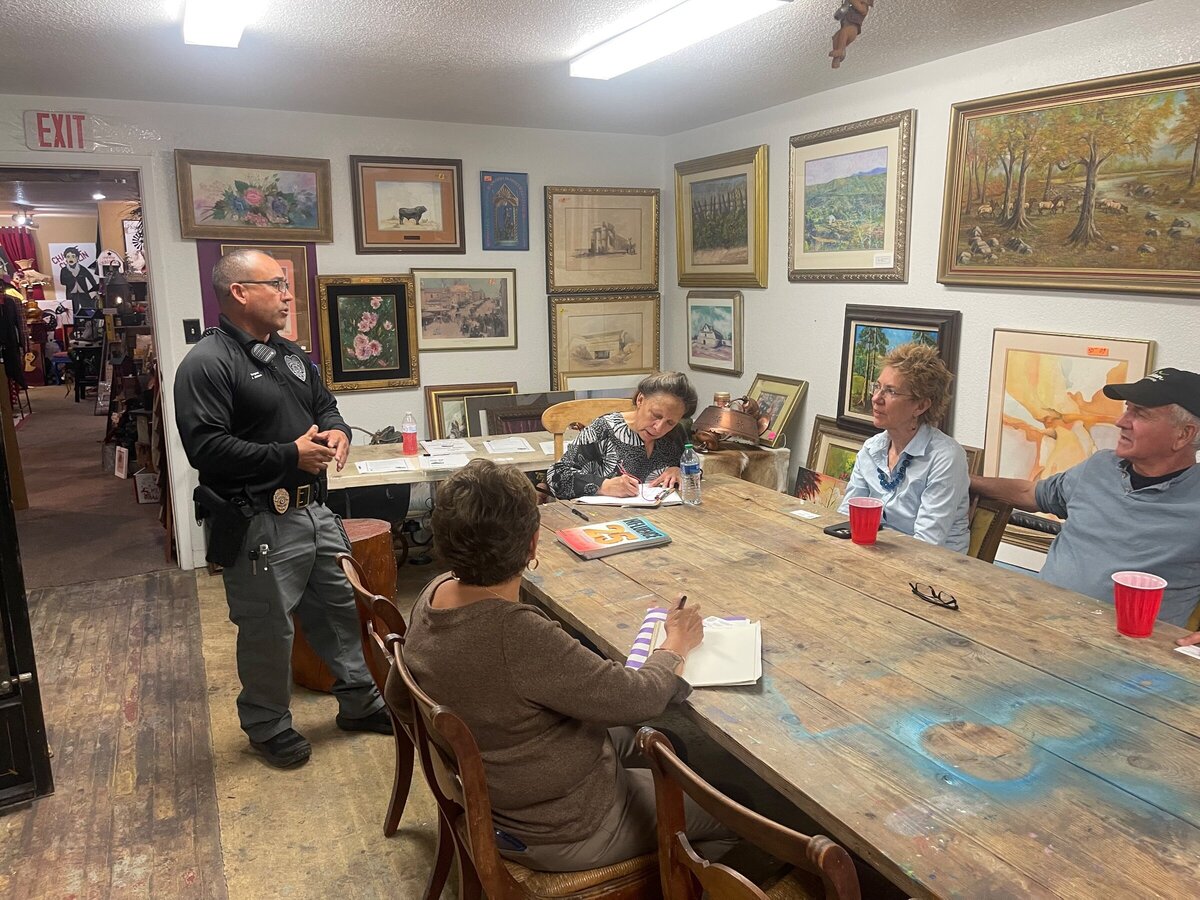 At City Hall a regular meeting of the city commissioners showed a Mayor wanting to move forward with real city business and a city divided meanwhile in Alamogordo's city center New York Avenue, Roadrunner Emporium leadership hosted a meeting with Sgt. Jackson of the Alamogordo City Police Department on how the businesses can collaborate more closely with the city police in an effort to safeguard the assets of New York Avenue and ensure customers are in a safe and vagrant free environment to shop and be entertained.
The owners of Roadrunner Emporium and a number of other businesses on New York Avenue, have raised the alarm, at the recent spike in crime and the distractions being brought forth thus not addressing the issue of crime at the ground floor.
Commissioner Sharon McDonald met with the business partners investing in New York Avenue and she too voiced concern thus she raised the level of collaboration. She connected the business owners with Sgt Jackson who came and met with business owners at Roadrunner Emporium. Sgt Jackson spent an hour and a half in dialog with the group explaining proactive steps at crime prevention, provided tips for safety and is assisting the group in launching a community watch and public safety audits of the city center.
The group of business owners present while small represented 13 New York Avenue businesses. The president of Alamogordo MainStreet, Claudia Loya was also on hand expanding the representation to the whole district. 
Thank you Alamogordo Police Department Sgt Jackson for taking the time to meet with the group, for the informational handouts and the action steps to move us forward.
Community safety relies on collaborative dialog between the powers of law enforcement, community and business leaders and citizens to reduce crime. The police can't do it alone and we each have a responsibility to look out for one another's safety and security.
On the other side of town at a city commission meeting Commission Melton sat in glee concerning a resolution with "no power of law and no legal enforcement" on the other side of town the city center and heartbeat of Alamogordo the business community, united in partnership and constructive dialog on ways to reduce the chances of crime in our community.
Non-partisan community collaborations are the priorities to bring Alamogordo safety, peace and prosperity, Alamogordo Police Sgt. Jackson is one of those community stars working in the field of collaboration to make it happen. Thank you APD.